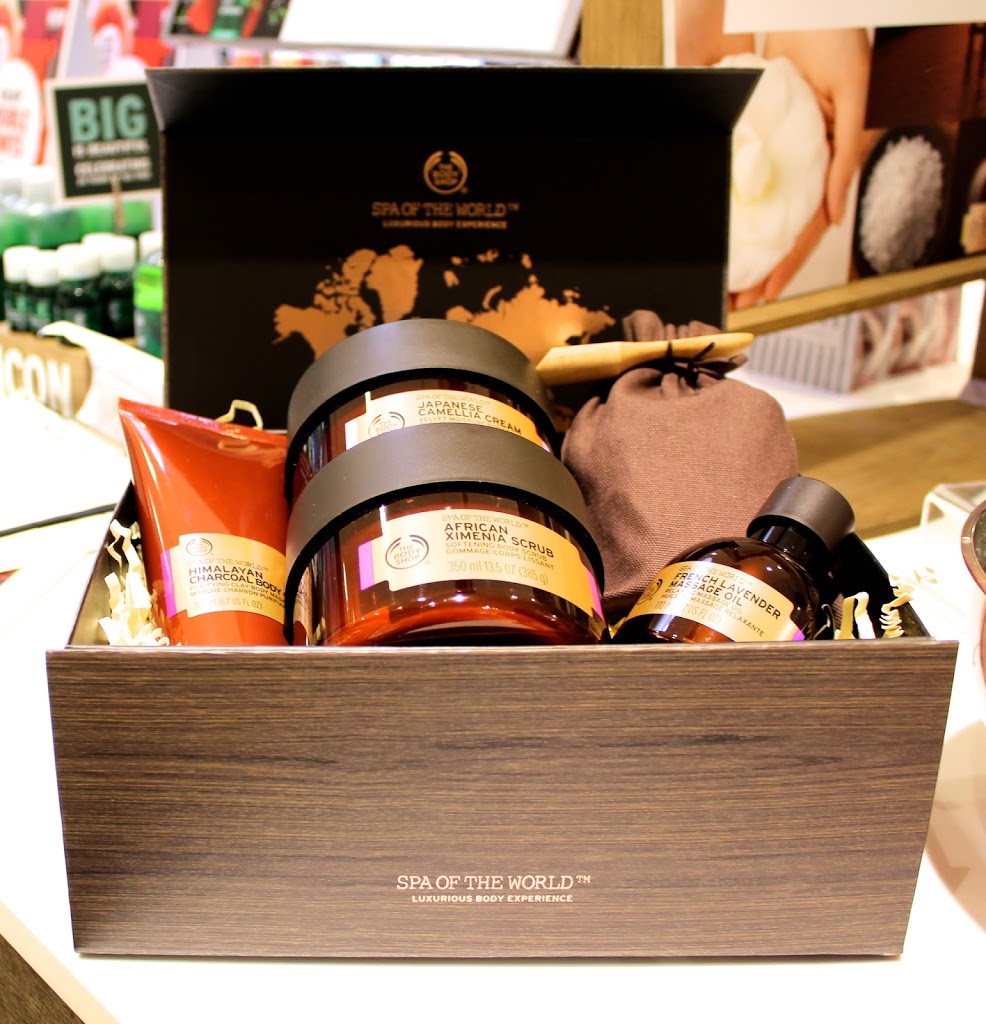 I was invited to the launch of the Spa Of The World range at my local The Body Shop on Friday and was really excited to try out their new products. The Body Shop have seriously upped their game, and as a high-end product lover, I was seriously impressed.
There are three 'rituals' which are categories the products fall under; revitalising, relaxing and blissful. We were taken through each of the rituals, with each product being described to us, in terms of ingredients and uses.
The packaging was the first thing to grab me, before I'd even picked up and tried any of the range. The bronze and gold packaging looks seriously high-end and something I knew would look gorgeous in my bathroom. It's the same as the Honey Bronze Glow Domes I blogged about earlier in the week.
These products smell absolutely incredible, as soon as a Thai Lemongrass Massage Oil was mentioned, I knew I'd be buying it, and oh my, it really does smell amazing. There are two other massage oils in the range; French Lavender and Tahitian Orchid. The fourth oil in the range is for body and hair; Polynesian Monoi Radiance Oil. There are two body creams, Hawaiian Kukui Cream, which is a thick body lotion, then Japanese Camellia Cream, which has a texture like nothing I've used before; it isn't a cream, and it isn't a butter, it is almost like putty. A little bit of this goes a long way and also smells incredible, I also bought this!! There are a couple of scrubs; African Ximenia and Dead Sea Salt, which was definitely my favourite.
There are two Body Clays in the range, something I've never used before, which you apply with a brush, which I quite liked the idea of; Himalayan Charcoal and Moroccan Rhassoul which is said to firm your body.
Finally in the range is the Egyptian Mile and Honey bath which is inspired by the tales of Cleopatra, and is a powder to milk bath. I was tempted to buy this too, but thought I'd sufficiently treated myself with the other two purchases!
Priced from £10-£23, this range is affordable luxury, and allows you to bring the spa experience into your own bathroom. I'd highly recommend you to head to your local Body Shop and try out all of these products. I'm sure you won't be disappointed. I will be writing up a couple of in depth posts on the products I've bought.
Have any of you tried The Body Shop Spa of the World Range yet?
Lauren xx