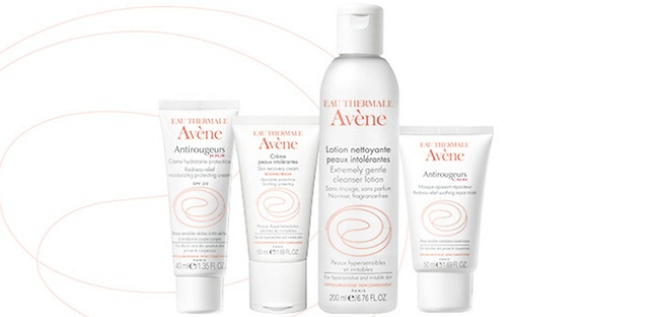 Avene
I had been using my beloved Liz Earle Cleanse and Polish for about 7 months and noticing an improvement in my skin condition had recommended it to numerous friends. I decided I would stop wearing makeup during the week and ended up going about 8 days with a completely naked face. As my skin is naturally dry I hadn't used my cleanse and polish during this time. Then disaster struck! I wore my makeup (same products) and removed it with cleanse and polish as I had been for months, the next day my skin was covered in pimples which you couldn't see, but you could feel. Again I used my cleanse and polish the following day and I had the most awful burning feeling all over my face. Nightmare! The pimples became inflamed and itchy!
I took antihistamine and tried E45 for a couple of days – neither of which helped. I decided to go to the pharmacist in boots who told me to do exactly what I had been doing already and told me to use more E45 despite the fact it was burning upon application.
Completely unsatisfied I went to Sk!n Clinc in Newcastle (as per recommendation from a work colleague), expecting to be met with expensive products (which I would begrudge buying), the lovely lady recommended 'Avene skin recovery', the tube was small and the lady said they give it to anyone experiencing a reaction. It was £13 which considering what I was expecting to pay, thought it was relatively cheap. Hallelujah. The itchiness stopped and the redness subsided. That was it; I was converted. I went to Boots and stocked up on the extremely gentle cleanser, thermal spring water spray and gentle purifyingscrub. After using the scrub all the pimples disappeared.
I usually spend a fortune on face creams due to my extremely dry face, often to no avail. I therefore thought I'd check the Avene product range, their website allows you to complete a skin profile from which products are recommended. I therefore purchased the serum and Face cream and my skin is no longer dry. I am impressed that two products, each under £20 appears to have sorted my skin, finally!!
The packaging is simple; white with orange and black text which I like, it makes me think the products aren't filled with unnecessary rubbish. Another plus point is the low amount of ingredients, the main ingredient being spring water. Avene is designed for those with sensitive skin and would recommend this product range to everyone! Very impressed.
Check out their website below and try the skin diagnosis for yourself.
Have you had a similar reaction to products? Have you tried Avene and had the same success as me? I'd love to know…
Lauren
xo