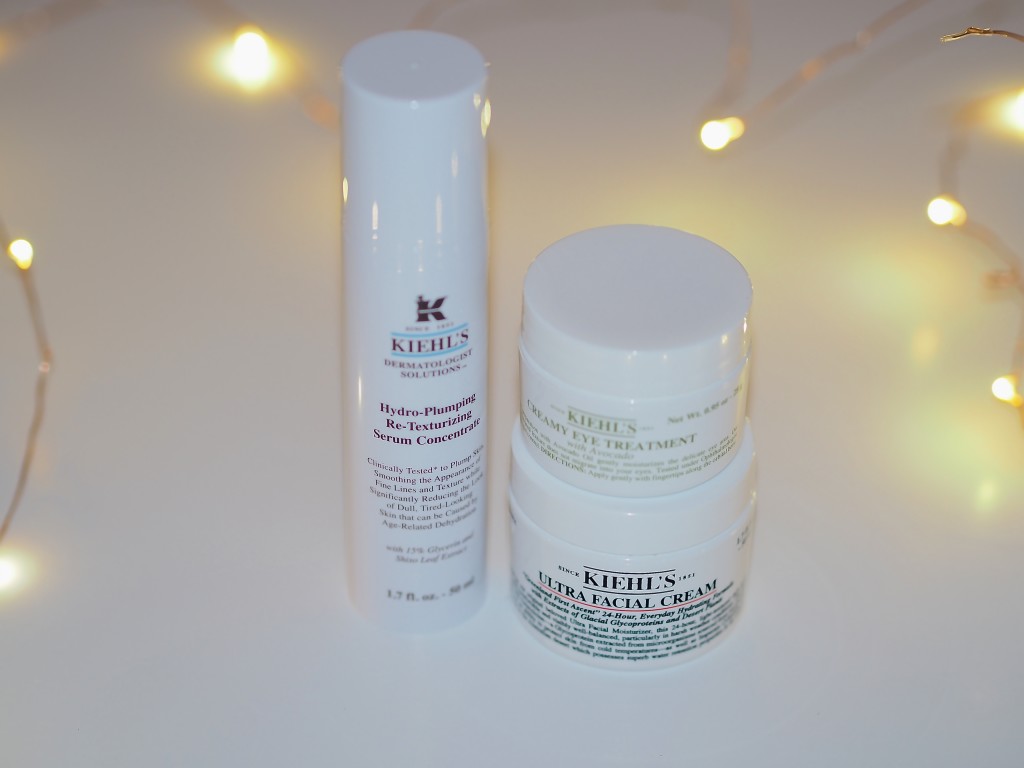 In November, I attended an event at Kiehl's in York, and as usual, spent a small fortune on skincare. Over the last year or two, I have really started to invest in skincare, and favouring my shopping splurges on skincare products, rather than makeup as I used to. I realised that if my skin wasn't in good shape, it didn't matter how good the makeup was on top. I'm 26 years old, so ageing is starting to become a concern of mine and would rather have to prevent the onset of ageing skin, rather than having to invest in correction in a few years time.
I treated myself to three products, which I can honestly say, I have used practically every morning since the end of November, so they've been truly tried and tested.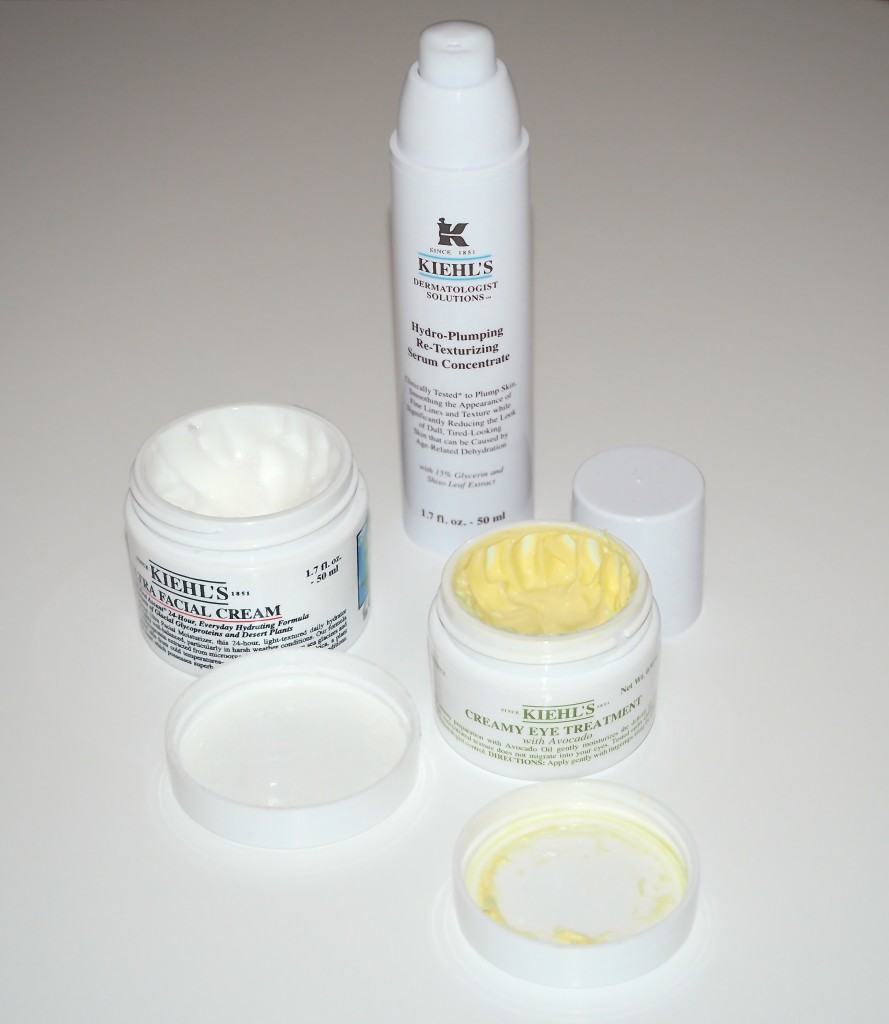 creamy Eye Treatment with Avocado
I must start this by saying I've never really used an eye cream before, serums and moisturisers aplenty, but never an eye cream. I first saw the Kiehl's Creamy Eye Treatment in Dubai airport a few years ago, and tried some on my tired eyes, before getting on my next flight to Australia. I've always wanted to buy it since then, but could never justify the £33 price tag for such a tiny pot (28ml), I did go with the larger option but at £20 for 14ml it's a lot more for your money.
A very small amount of product goes a long way so it will last you a long time, I've used it everyday and as you can see I've not used much of the tub.
The first time I used it, I dotted it around my eye and massaged in with my ring finger and I was surprised by the consistency of the product; as you work it into the skin, you can literally feel 'bursts' of water from the cream, and it starts to feel as though you're massaging the product into wet skin incorrectly. A top tip is to apply the product to the back of your hand first, until you feel the 'bursts' of water, then apply to your eye.
It is extremely refreshing, especially on tired eyes, I really like the way the product feels on my skin as it isn't too heavy, and makeup applies well after use. This will definitely remain a firm staple within my skincare regime, both morning and night.
Hydro-Plumping Re-Texturizing Serum Concentrate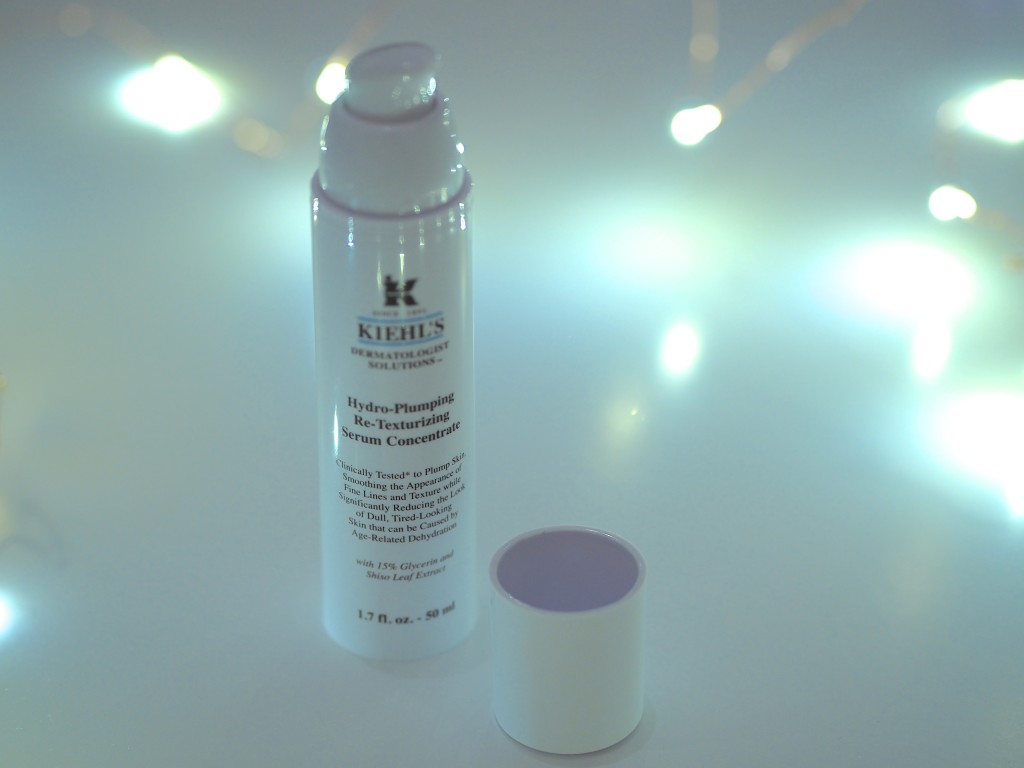 The Hydro-Plumping Re-Texturizing Serum was highly recommended by the consultants at Kiehl's on the night of the event, and having analysed my skin as being de-hydrated, was recommend as my must have product. I was skeptical as the 'wonder' ingredient is glycerin, which isn't really that 'wondrous'. However, I bought it. The serum is meant to plump your skin and help with fine lines. I have to say I've not noticed anything miraculous about this product, I haven't noticed any plumpness or a difference to the few lines I do have.
I've been applying this serum every morning, one pump is sufficient to cover your whole face. The product almost looks gel like and smooths well over the skin with a silk like texture. I apply this post eye-cream and pre face cream. It's non-greasy and quickly absorbed, so I like to use this on a morning only, as I feel it gives me a good base for my makeup.
To conclude, I don't think this product is any form of miracle worker, and at £40 a pop, I really think I could get more bang for my buck in a different product. It definitely hydrates my skin in a non-greasy way, making it perfect for use on a morning, but I definitely like something richer to hydrate my skin on an evening.
Ultra Facial Cream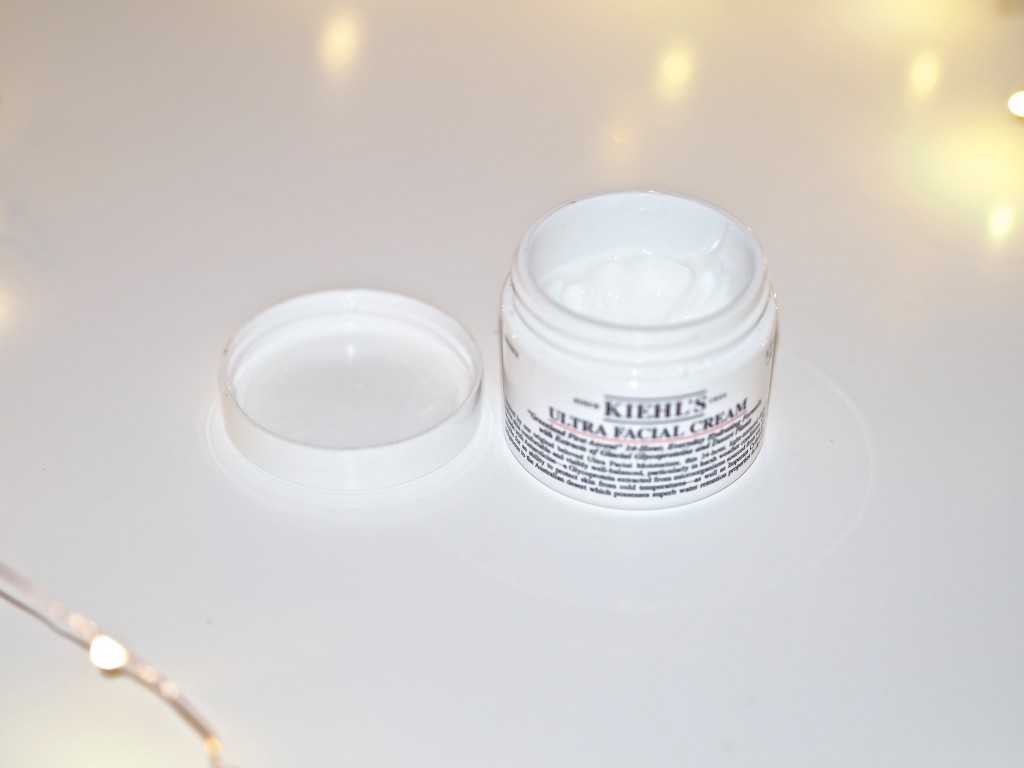 The Ultra Facial Cream is meant to be a 'cult' Kiehl's product. To me, it's just 'nice'; my skin doesn't disagree with it, it is fast absorbing and very light for something described as 'ultra'. I've been using this after the Hydro-Plumping Re-Texturizing Serum, and they work well together, as they're both quickly absorbed and they do hydrate my de-hydrated morning face. I doubt when my skin is feeling very de-hydrated that this product would make that much of a difference.
Again this is a pricey product at £43.50 for 50ml. 'Nice' seems to be the only way to describe this product, it's not that words fail me, it just really isn't anything special. It's kept my skin in check, and something that I'd probably keep on my shelf for when I run out of something with a little more oomph. It's the perfect gentle and light moisturiser for a morning if you're skin is behaving, but I genuinely don't see what I'm getting for the money.
Overall, the only product I will be re-purchasing is the Creamy Eye Treatment with Avocado, as I think this is good value for money, a little goes a long way, and it feels very refreshing.
Have any of you tried these products? What did you think?
Lauren xx