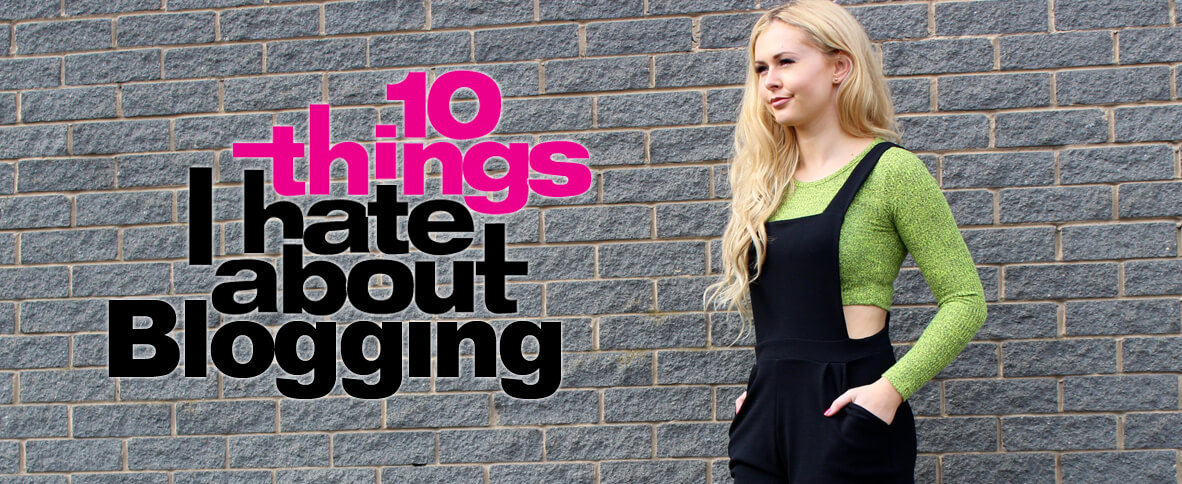 Come February, I will have been blogging for a whole 4 years, scary right? There are so many more bloggers now than there were when I started out, and people generally understand what you mean when you say that you have a blog. I thought I'd share with you the 10 things I hate about blogging, controversial?
1. Twitter Chats
Every single day of the week there are twitter chats to take part in. Imagine coming home to an empty house, with no plans and feeling a little bit lonely. Imagine having a chat to take part in at the tips of your fingers, to while away an hour or so, it's so annoying…
2. Community
There is this awful sense of community within the bloggersphere, something to belong to, why on Earth would you want to connect with likeminded people? Urgh.
3. Events
There are many blog related events up and down the country. It's so irritating to think there are places to meet up with members of the blogging community, try out new things, sample products, visit exciting venues etc. why anyone would want to go to these, I'll never know…
4. Opportunities
One of the worst things about blogging has to be the opportunities that are available for you to work towards. Whether this be the opportunity to review something you're excited to try, develop skills that come along with blogging, or meeting new people, seriously its sick.
5. Improving My Photography
An awful side effect of blogging has been the improvement in my photography. I didn't know how to get off auto and onto manual before blogging, let alone think I'd own 4 cameras. It's truly awful that something you love doing can actually develop your skills.
6. Meeting New People
Moving to Leeds and not knowing anyone other than my other halves friends was a little daunting. Another terrible thing about blogging has been meeting lots of Yorkshire bloggers and local folks who I wouldn't have otherwise…
7. Recommendations
The blogging world is full of recommendations and reviews on products, some silly people read these before purchasing a product, I'd much rather waste my money on something that won't do what it says…
8. The Excuse to Buy Copious Amounts of Products
Most people would have thought I had some sort of addiction or hoarding issues before entering the blogging world, due to the amount of products I buy and try, in the bloggersphere it's totally acceptable, you'd much rather be thought of as having issues surely…
9. Knowledge
Before blogging I didn't have a clue abut SEO, what makes a good post or how to promote it. This knowledge has all developed out of my blog. It's hideous to think that your hobby can give you transferable skills for your career.
10. Inspirational People
The blogging world is full of inspirational people. People who have turned their hobbies into successful careers, have landed jobs in the fashion or beauty industry through their blogs, or now have successful businesses on the back of it. Bloggers are really inspiring people, it's revolting to be surrounded by these folk…
Please note the satire within this post, in an age where negativity appears to be everywhere, try and read between the lines and see the positivity.
Lauren xx