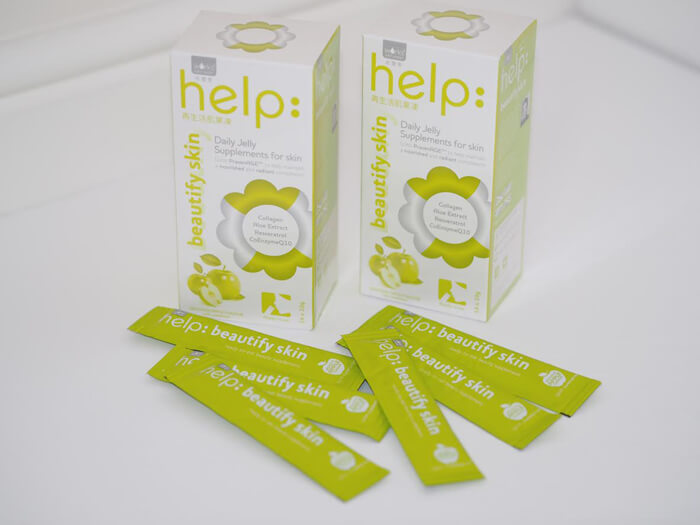 help: beautify skin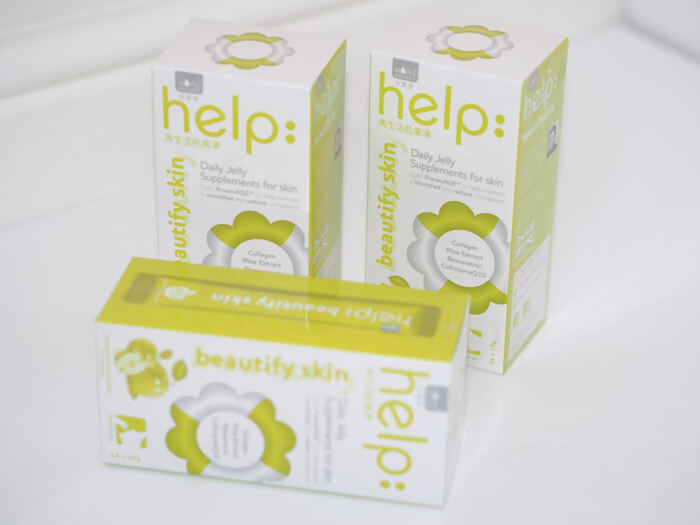 For the last month I have been taking a supplement to help improve the condition of my skin, the supplement is a jelly sachet called help: beautify skin* by the company Works With Water.
To give you a little insight into the condition if my skin, I'm 27 years old and have combination skin, which has moved from being more on the dry side to being more on the oily side over the last year or so. I do have visible pores (we all do!) and I do suffer from breakouts, on average every couple of weeks. My breakouts tend to be under the skin painful cystic spots on my chin, which likes to come back in the same place time and again, or pimples on my forehead. I follow a decent skincare regime, of cleansing and moisturising in the morning and double cleansing and moisturising in the evening, and will use acid exfoliators a couple of times a week.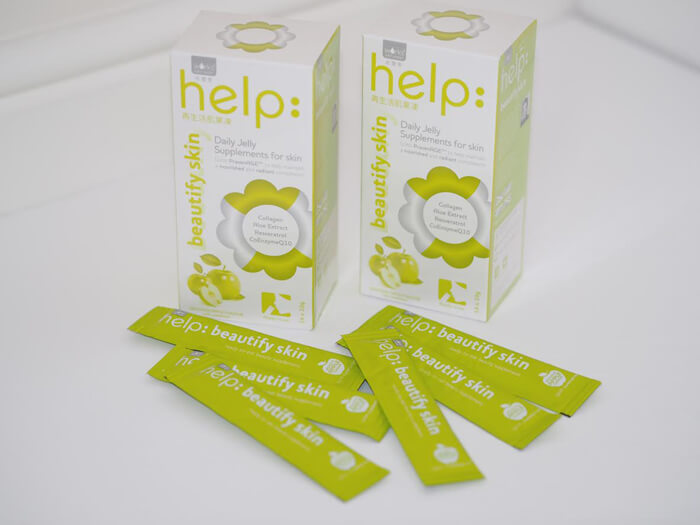 You are directed to take 2 sachets for the first week, cutting this down to 1 sachet per day from then on. The sachets are filled with an apple flavoured jelly, which isn't unpleasant, but definitely tastes better chilled (I keep mine in the fridge). Each sachet contains these natural skin regenerating nutrients: CoEnzymeQ10, Hydrolysed Marine Collagen, Resveratrol, Aloe Vera and Vitamin C.
The first positive I have about the help: beautify skin supplements is the fact that they agree with me. I have taken a lot of other supplements in the past, which have promised to give me better skin, hair and nails, but unfortunately have always left me with crippling stomach cramps and an upset stomach, meaning I've had to stop taking them. I can say 100% that help: beautify skin is perfect for even my sensitive stomach, which is a big win for me. I've recently been diagnosed with IBS and this has had no adverse impact on my symptoms.
In terms of breakouts, I have definitely experience less than usual. I had a week of very bad eating due to events and birthdays and it didn't show in my skin which I was very surprised about. I also had a breakout on my chin, in the usual place, but it didn't come up slowly and painfully, it came to a head very quickly and also healed surprisingly quickly. I've also noticed the marks on my skin from recent breakouts are starting to heal.
I've had a couple of nights away over the last four weeks and hadn't take any help: beautify skin sachets with me, which actually allowed me to see if there was an impact on a day to day basis. I'm sure that my skin had less of a glow on the days I didn't take the supplement, as well as the day after.
I've also noticed that my skin appears to be less 'thirsty'; after a hot shower or bath I sometimes have that tight feeling in my skin which is only rectified by slathering on moisturiser. I've not had this feeling since taking the supplements.
One of the best things about the help: beautify skin supplements, aside from the aforementioned, is the ease of consumption. You can throw these sachets in your bag, take them to work, leave some at home etc. They're also great for those who have issues taking tablets of poor tasting supplements.
I still have some sachets left and will be continuing with them until I run out. The sachets aren't cheap and cost £22.94 for a box of 14 and I'm not sure I can justify £46 per month on supplements if I'm completely honest, they're available to buy online here. However, if when I stop taking these I notice a significant decline in the condition of my skin I will re-purchase. I think if my breakouts were occurring every single day, then I'd definitely overlook the price point and stick with them. For me the only negative about help: beautify skin is the price point, other than that, I'd recommend them to you all.
You can pick these up from several online stores such as Amazon or Look Fantastic, thank you to Works With Water for sending me these supplements to try.
Lauren xx