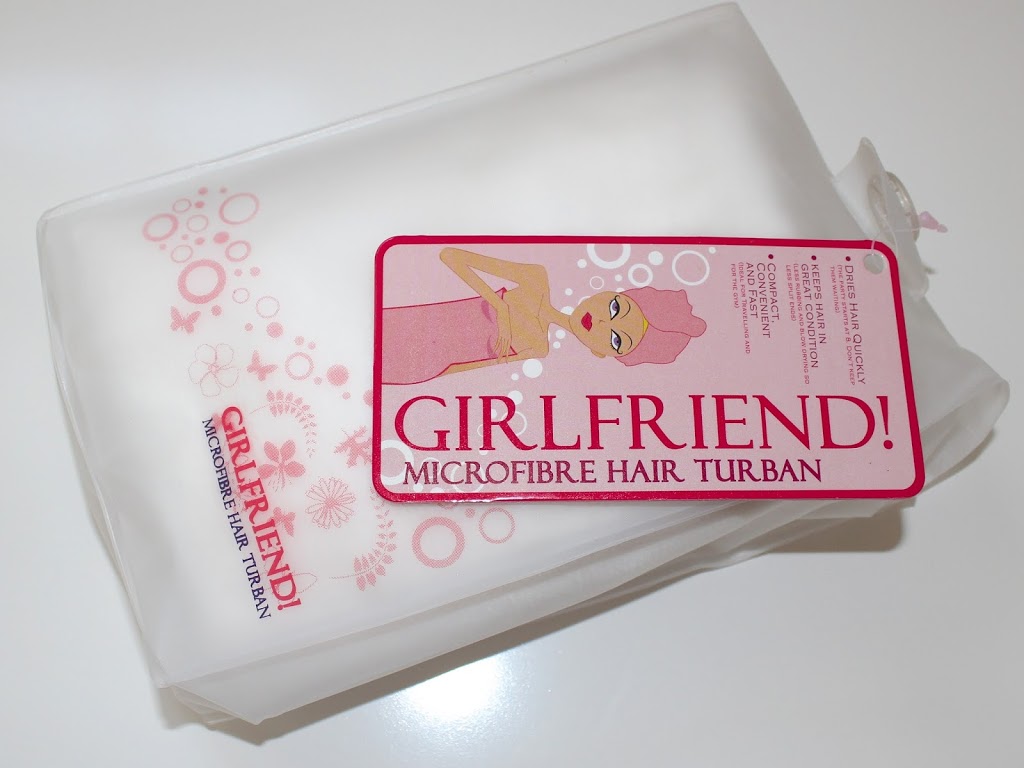 I received a Girlfriend Microfibre Hair Turban from The Works in my The City Girls goodie bag, which I posted about last week. Regular readers will know that I try to limit the amount of heat my hair is exposed to as I have been trying to gain length for the last few years, post hair extensions. I think I'm pretty good with my hair, I use good quality shampoo and conditioner, only use a comb when my hair is wet etc. but I knew I had to break the bond with my hair straighteners if I wanted to really improve the condition of my hair, as well as stopping the use of bleach on my hair, I now use tint.
The microfibre hair turban allows you to dry your hair naturally, without exposing it to rubbing with a regular towel or heat. We all know that heat causes so much damage so anything to limit that is great in my book. My hair is naturally curly and if I try to leave it to dry overnight I end up with more frizz than curls, so this product immediately caught my attention. I know you're meant to tie your hair up for bed, in a plait or a bun, but this isn't something I've taken to.I have previously posted about the trend for 'hair plopping', where you wrap your hair in a cotton t-shirt and allow your hair to dry within it and found the use of a turban to be exactly the same, just with different material. I have found the microfibre turban to work better than a cotton t-shirt as recommended with 'hair plopping'.
After washing your hair, squeeze out the excess water, apply products as usual and comb through. I gave my hair a good 'scrunch' with Boots own brand curly mousse before using the turban. Tip your head upside down and place the hair turban on your head. The turban is elasticated around the edge and fastens with a button. I found twisting my hair first, resulted in better curls, as opposed to just turning my head upside down and pushing in any pieces of hair that I'd missed out the turban.
The next morning my hair wasn't completely dry; my hair is chest length and whilst not exactly thick, I do have a lot of it! My hair felt much softer than it usually does when I let it dry naturally and my curls were more intact. I've also found that my curls are still fine on the second day post wash.
I can't recommend the Girlfriend microfibre hair turban enough and think curly girls will definitely benefit from this. They're only £3 currently on
The Works
website, so an absolute bargain! Thanks again to The City Girls for including this in my goodie bag.
Lauren xx