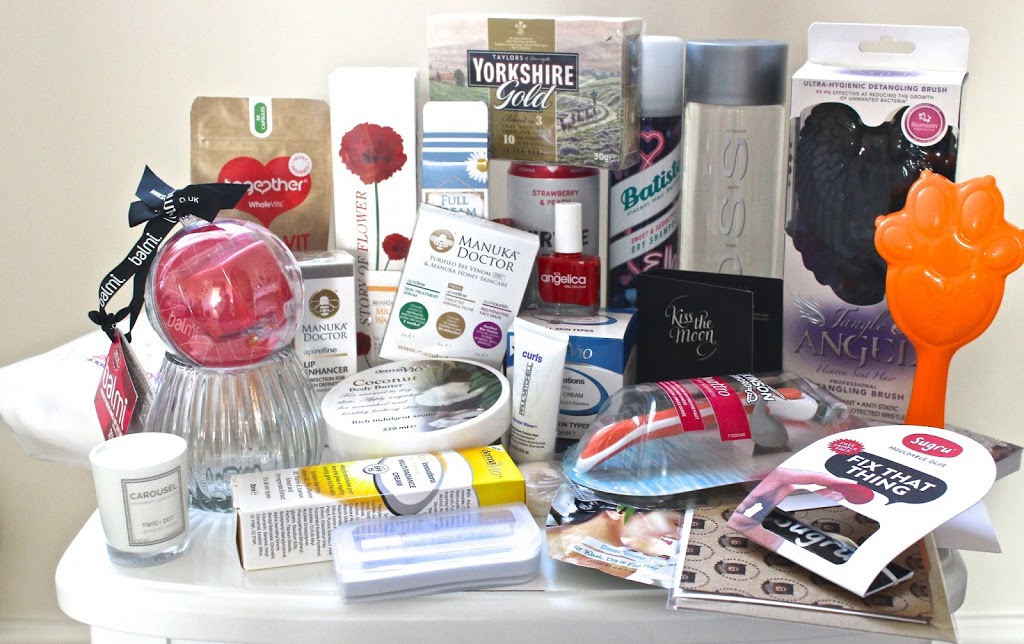 On Saturday I attended the wonderful The City Girls Leeds blogger event at The Liquorist, which I blogged about earlier in the week. There were lots of different brands with many goodies for us lucky bloggers to pick up. I wanted to share with you all exactly what I managed to get my hands on. This post will be a quick overview of the items I received, with some in depth reviews of my favorites over the coming weeks.
The goodie bag contained some fabulous beauty products which I'm looking forward to trying out; Manuka Dr Bee Venom Products, Batiste Dry Shampoo, Wilkinson Sword Razor (I heard lots of girls saying this was great as they were in need of a new one), Kiss The Moon Bath Oil, GOSH Lipshine, Tangle Angel Hairbrush (Cassie and I both got our paws on one!), Seventh Heaven Face Mask, Paul Mitchell Mini's, Angelica Nail Polish, Together Health Vitamin Pack, Dusty Girls Lipgloss, MooGoo Face Wah and Moisturiser, Balmi Lipbalm, Derma V10 Blog Box, The Body Shop samples, and finally, from The Works a Microfibre Hair Turban.
Homeware Products
We received some great Homeware products also; a Glass Candle Holder from Oates&Co, a Miniature Candle from Twig & Dot which smells of marshmallows, and Mouldable Glue from Sugru.
Food & Drink Products
I'm looking forward to trying this lovely lot now that I have my blog photos; Iced Tea from Virtue Drinks, Voss Water and a USB which looks like a mini Voss Bottle, Pop Chips, Olives from Oloves (mine burst *sad face*), Yorkshire Teabags, a packet of Urban Fruit, a voucher for a free Bubbletea and an amazing Brownie from Brown & Blond which I ate too quickly to get a picture.
Miscellaneous Products
I'm looking forward to seeing what all the hype is about surrounding adult colouring books with the Michael O'Mara Can't Sleep Colouring Book – I just need to get my hands on some coloured pencils. We received an illustrated card from Plewsy and a comedy greeting card from Scrubbler. I was also lucky enough to win perfume in the Raffle for Leeds Woman's Aid, as I mentioned in my last post, which we collectively raised £240 for.
I do have some exciting news for you my lovely readers, I have arranged a giveaway from one of the fabulous brands above. The giveaway will launch on Saturday so make sure you check back to enter.
Lauren xx