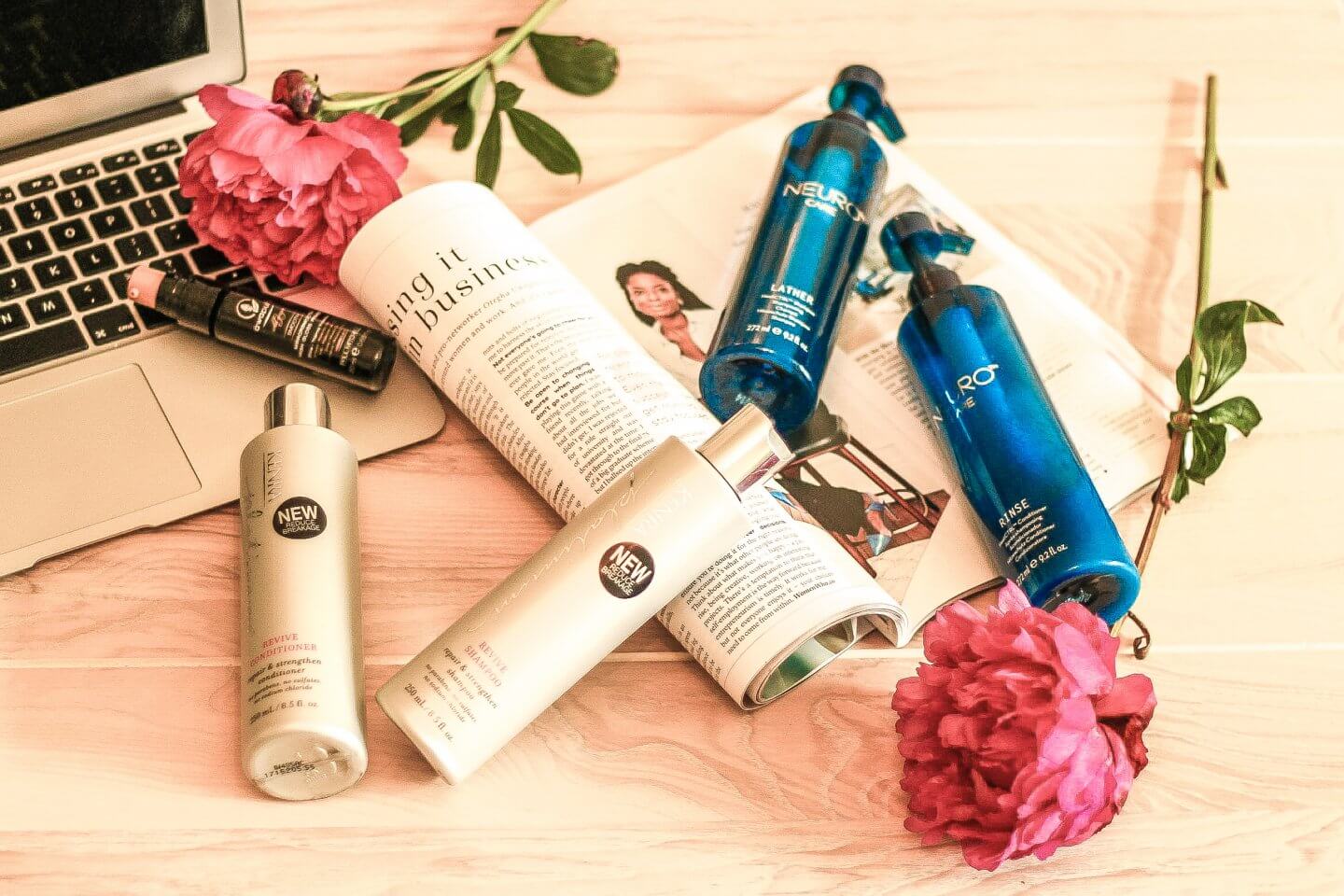 Having naturally long hair is something I've dreamed of for many years. I spent the best part of my late teens bleaching my hair and my early twenties wearing a full head of extensions. I've not had bleach in my hair for probably 6 years, and I've not worn extensions for about 5 years. I try to take good care of my hair; I don't dry my hair with a hair dryer whenever possible. I only use straighteners when I'm going out and need a quick fix, and most of the time I'll use heated rollers rather than an iron over my hair. In this post I'll be sharing my current luxury hair care favourites with you.
Current Luxury Hair Care Favourites
Regardless of how I treat my hair after it's washed, it's also important the products I use to clean, condition and protect my hair. I've been trying a lot of new hair care products recently and want to share my current favourites with you.
First up is a shampoo and conditioner from Kenra. I find that with being blonde, my hair tends to lack shine that beautiful brunettes seem to achieve much more easily. Blonde just seems to look dull, unless under the sunlight. The first thing I noticed after using the Kenra products from their Revive range, was how shiny and healthy my hair looked. I've only achieved this kind of shine from using shine sprays in the past. My hair was left glossy and smooth and I'd definitely recommend this range to all of my fellow blondes struggling for shine. The shampoo and conditioner are super moisturising, so you may find you need to wash your hair slightly more regularly than usual. I personally try to go three days, but with this range I was going two. I was more than happy to increase my washing schedule as the results were worth it.
The second shampoo and conditioner set I've been loving is from Neuro. I love the blue packaging, I am a magpie for blue after all, but the contents of the packaging are just as good. The shampoo and conditioner are both very light from the heatCTRL range. I find the shampoo leaves my hair clean, without feeling stripped of all moisture. The conditioner is also light and doesn't weigh down my hair. From the first use I noticed how lightweight the products left my hair feeling. Immediately after cleaning my hair, it felt smooth, without the application of any serums or de-tanglers. My hair is naturally curly, so I find my hair can feel particularly rough after a wash, but not with this range from Neuro. With Neuro I am able to go 3 days between washes, without excess grease. This is even with the products not drying out my hair – winner!
Finally, Awapuhi. I've just run out of this beloved high gloss primer from the Smooth range. I've used this after every wash, with both of the above shampoos and conditioners. I've found this quickly detangles and allows me to comb my hair when damp, without pulling or damaging my hair. My hair is left smooth and protected from any subsequent heat application too, which is something I often overlook. A small amount of product goes a long way and I find one or two pumps is enough for my locks. I actually prefer this primer to other hair serums and oils as it doesn't make my hair greasy and it also doesn't weigh it down.
Which luxury hair care products do you recommend? I'd love some more to try!
Lauren xx
*This post contains PR Samples however all opinions are my own