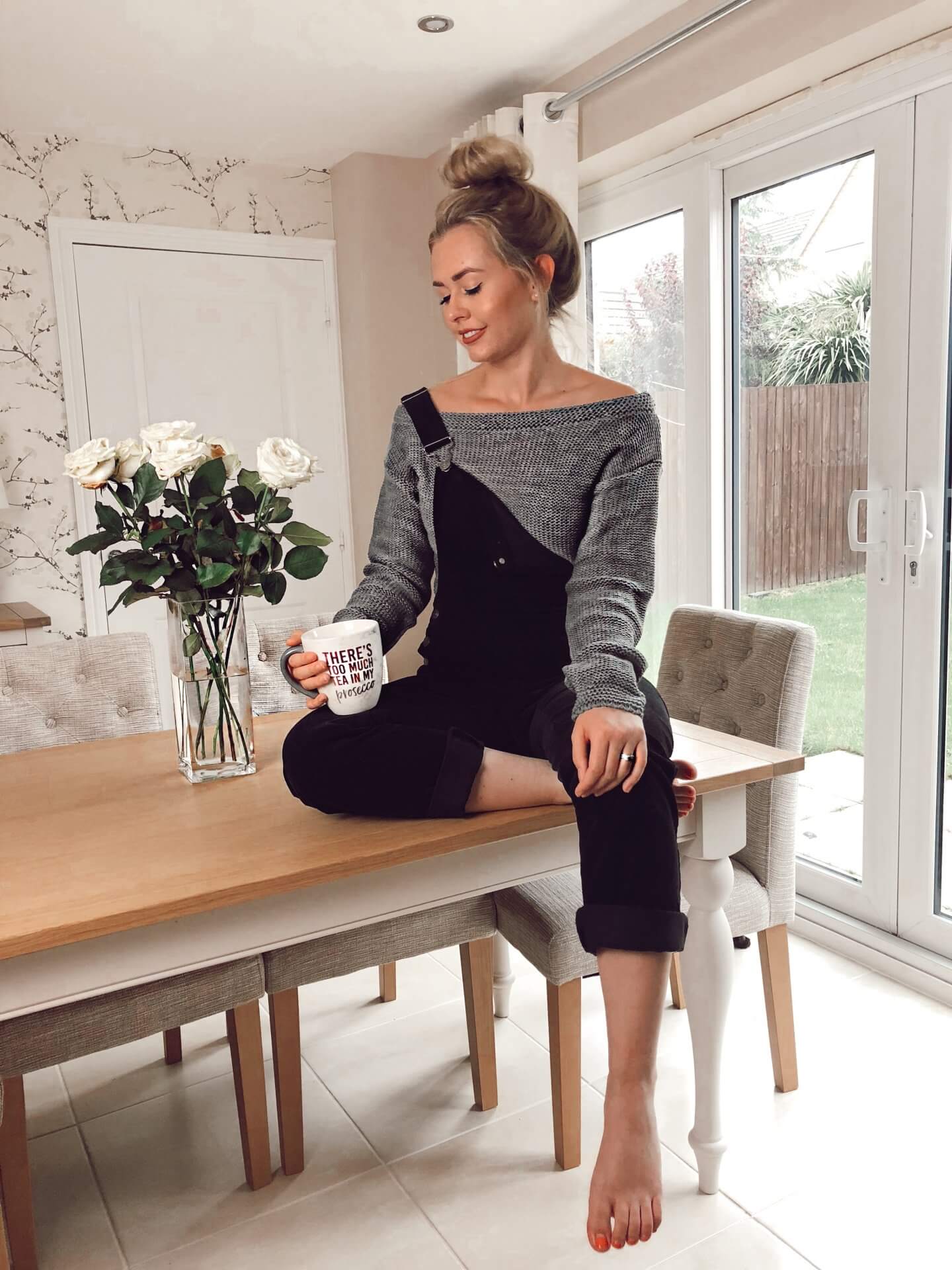 As a bit of a shopaholic, the best thing about the weather turning colder, is a new winter wardrobe. I'm not the biggest fan of autumn and winter, but new knitwear definitely improves it. It's been a pretty warm start to autumn, but the weather is finally changing so knitwear is a must. Four new additions to my wardrobe in this autumn knitwear haul are courtesy of Femme Luxe, and I'll be sharing them with you in this post. You may have seen some sneaky peeks already on my Instagram.
Feme Luxe Autumn Knitwear Haul
Mustard Front Wrap Knitted Jumper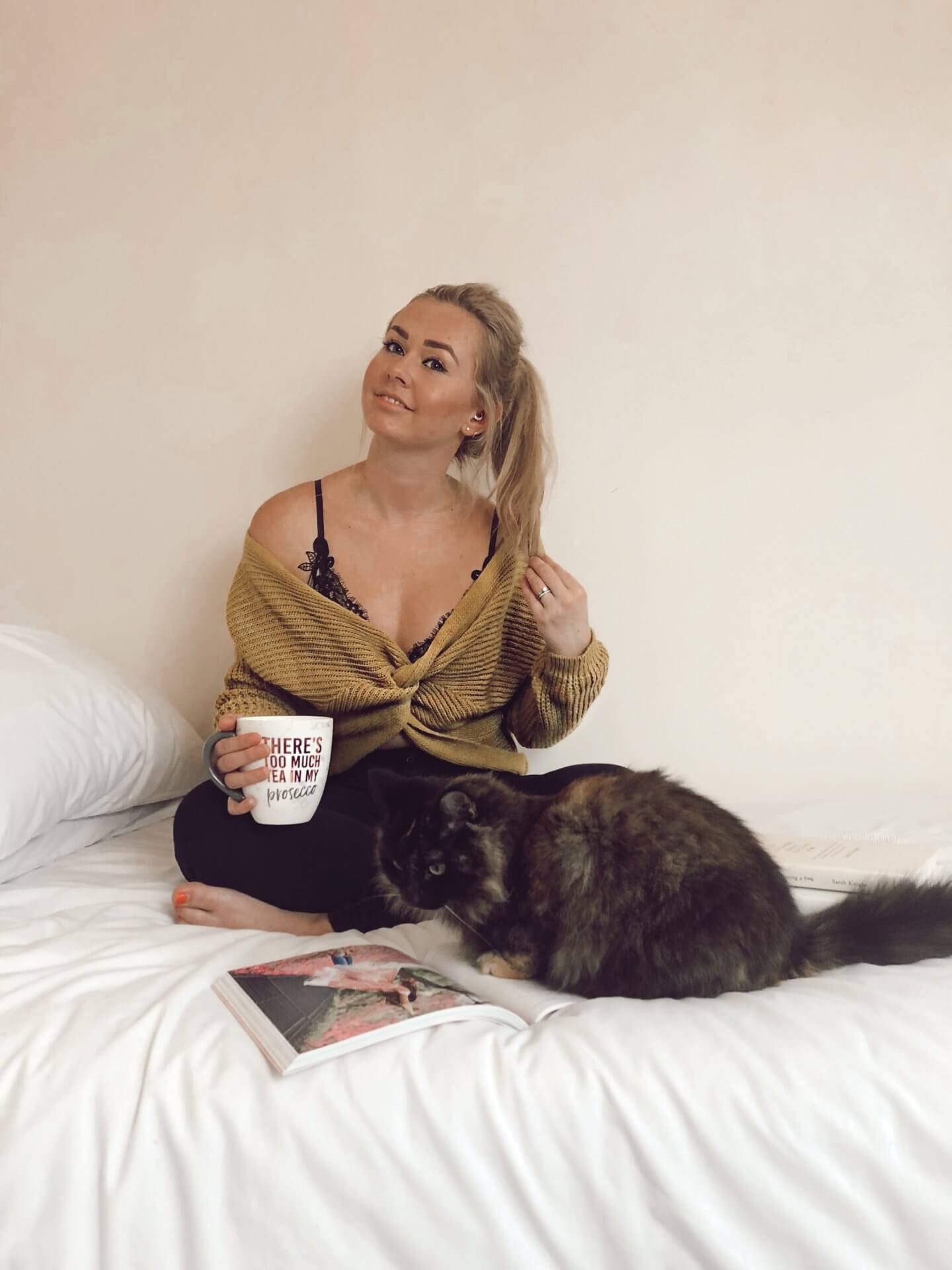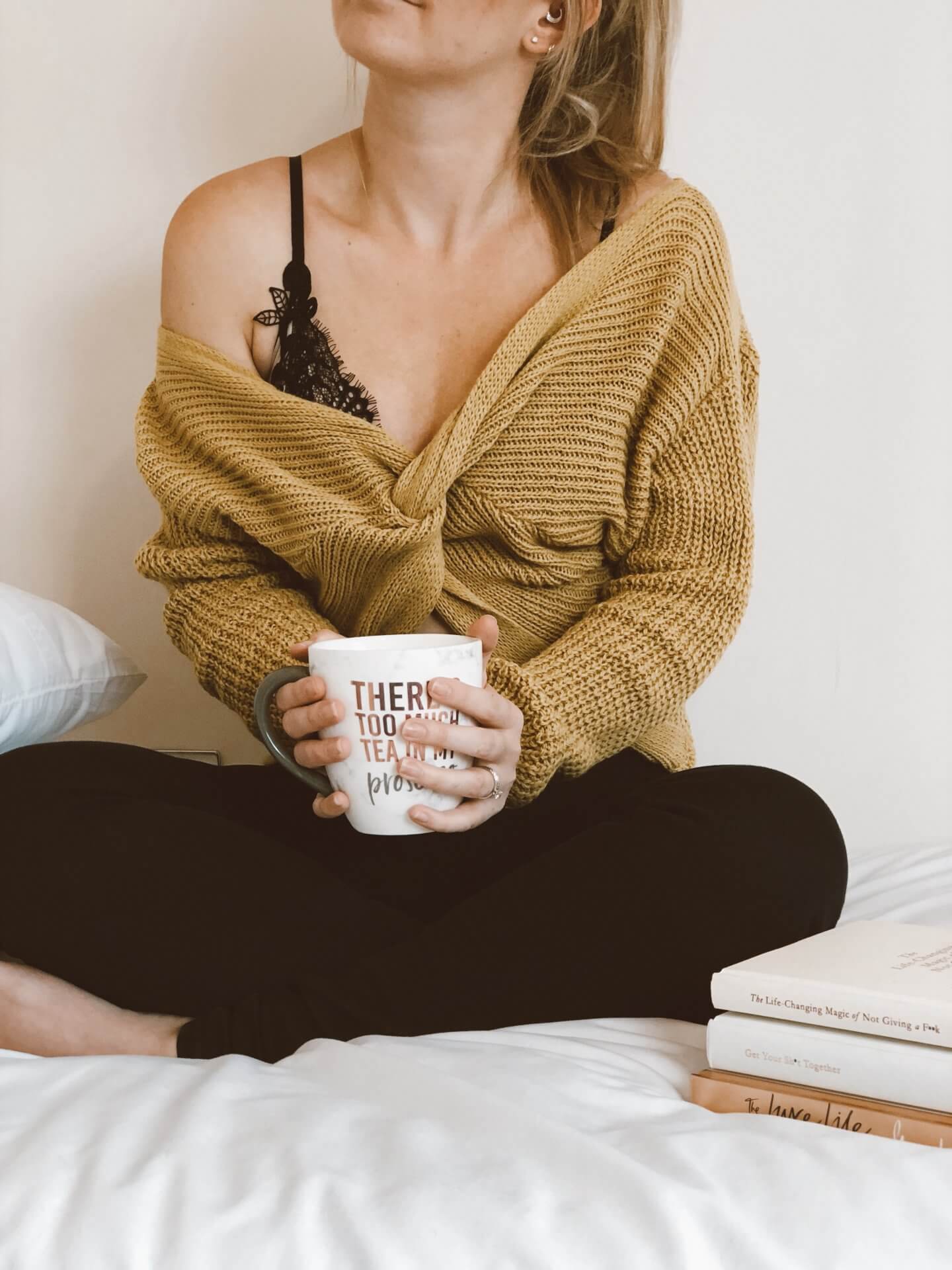 I've been lusting over front wrap jumpers for sometime; they're all over my Instagram feed. I picked this mustard front wrap jumper as the colour is perfect for this autumn. The jumper is cropped, so on warmer days I'd pair it with high waisted jeans, and a pretty bralette as I have in the photos here, I styled the jumper off the shoulder too, which meant I got a little more length from the jumper, as I hadn't expected it to be quite as short. For colder days, I'd add a black vest underneath, and layer the jumper over the top. This jumper is available in 11 different colour-ways, so you'll definitely find one perfect for you. Priced at £28.99, I'm sure you'll love this as much as me.
Stone Oversized Split Side Knitted Jumper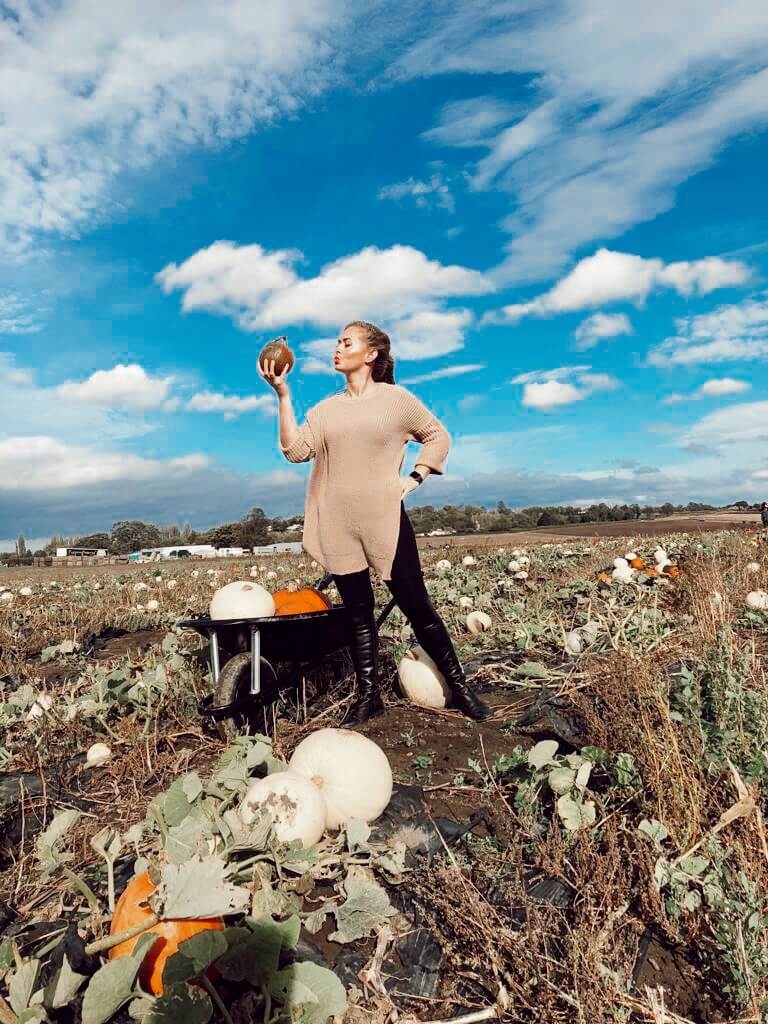 For a rather chilly and windy day on a pumpkin farm in Yorkshire, this oversized split side jumper in stone colour, was perfect to keep me warm. The jumper has split sides, which came just above my waist. I paired the jumper with basic black leggings and flat knee high boots. I folded the sleeves back on themselves as they are pretty long and I liked the contrast between the length of the jumper.
I love an oversized jumper, especially in a chunky knit. This was a pretty casual look, so to dress it up, I'd cinch it in at the waist with a statement belt and wear with jeans and heels. This jumper is priced at £26.99, which I think is pretty reasonable for an oversized jumper.
Mocha Fine Knit Oversized Jumper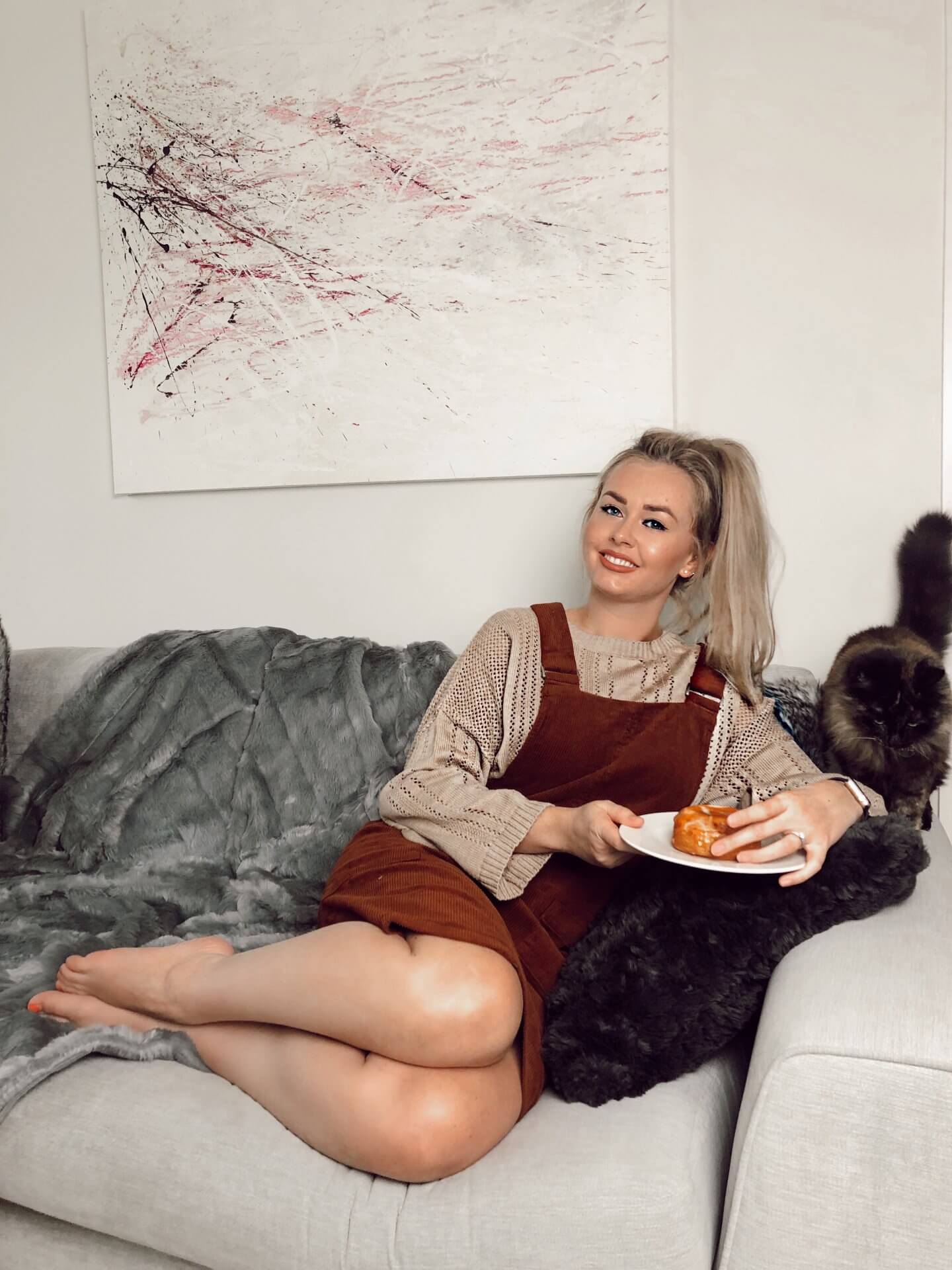 One of my favourite pieces from this Femme Luxe haul is this fine knit oversized jumper in mocha. Anything oversized always looks more expensive than it actually is. This definitely looks more expensive than £25.99. This fine knit was perfect to pair with a pinafore dress as it isn't too bulky. The pinafore dress is another staple for autumn 2018, so I'd definitely recommend this jumper to wear underneath a dress.
I think this fine knit jumper would equally look as great with a skirt, tights and boots. Add a pumpkin cream doughnut and a fur baby and you're perfectly ready for autumn. I feel warm and cosy just looking at this photo.
Charcoal Knitted Off Shoulder Jumper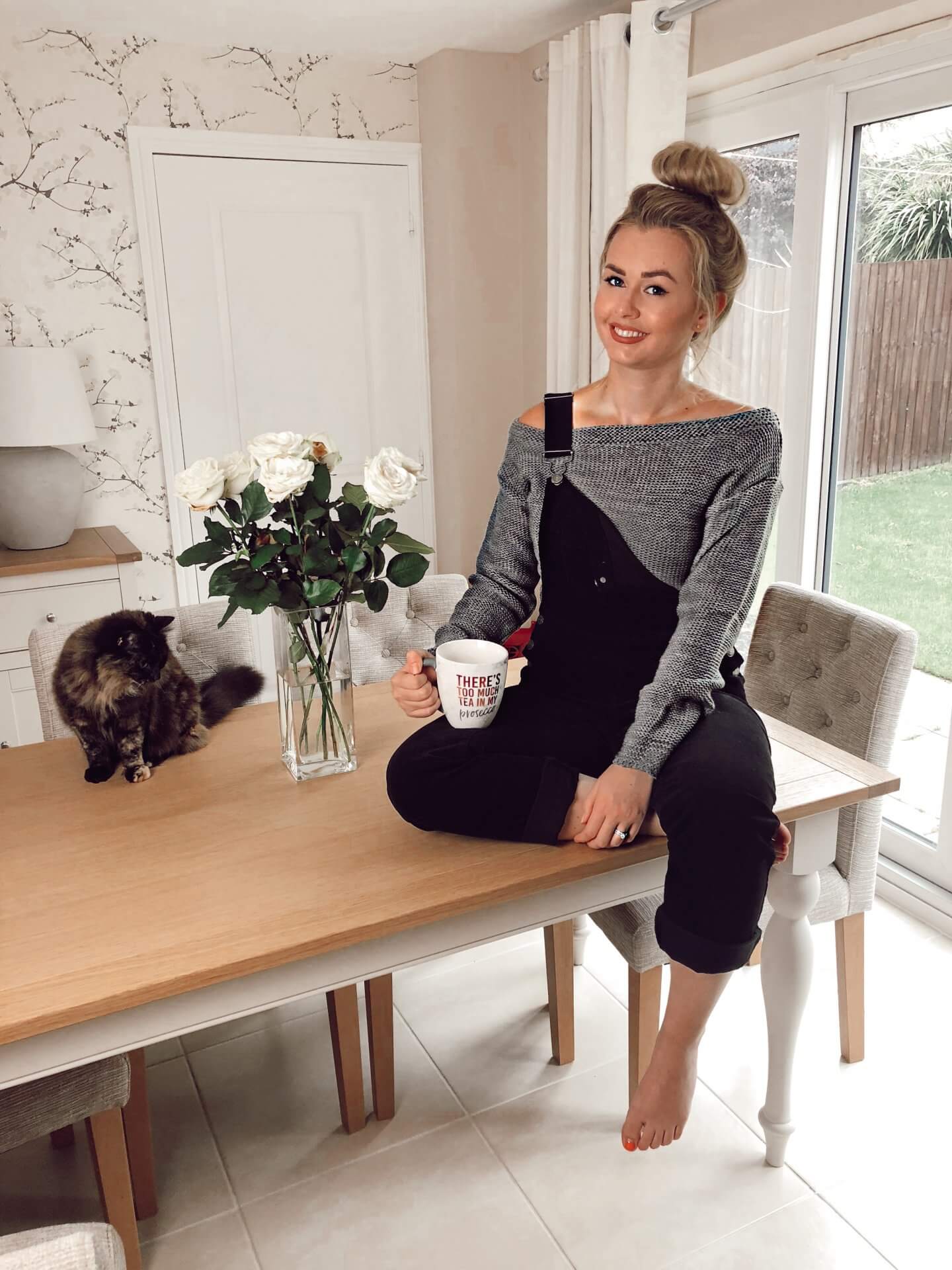 I'm not willing to give up off the shoulder tops just yet, so I was really pleased to find this gorgeous charcoal knitted off the shoulder jumper. I love this beautiful dark shade of grey. I paired this jumper with a pair of black dungarees, leaving one strap down to show the off the shoulder style of the jumper. This jumper is priced at £23.99, so I think it a bit of a bargain. This is quite a casual look again, but I'd easily dress it up with a pair of dark jeans and either heels or ankle boots for any autumn evenings out over the next few months.
My fur baby was a big fan of this haul, as you can see she joined in every photo, (sadly she couldn't come to the pumpkin farm), so thank you Cassie for being an excellent addition!
Have you bought anything from Femme Luxe yet? There are always lots of offers available, so make sure you check out the ticker time bomb on the homepage. I already have a wish list running from the site, so I'm sure you'll be seeing more soon.
Thank you to Femme Luxe for the four pieces of knitwear, I'll be wearing them a lot over autumn and winter, I'm sure I'll be an outfit repeat offender with these gorgeous pieces.
Lauren xx
Shop The Post