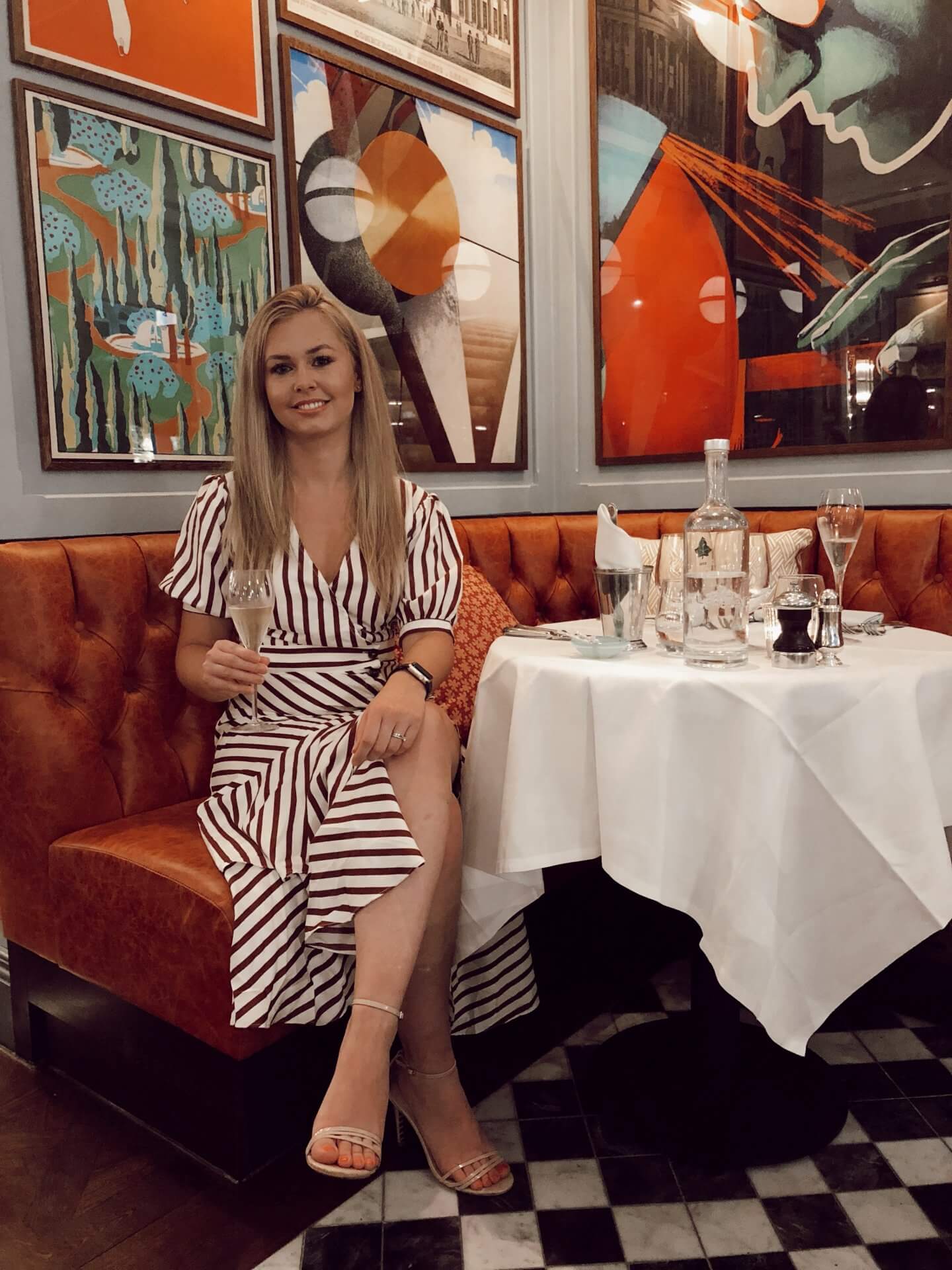 When I heard The Ivy was heading to Leeds, I couldn't wait to visit. I'd previously visited The Ivy in Harrogate, which you'll have seen if you follow me on Instagram. I was very kindly invited to visit the new bar and restaurant in exchange for a review. I had high hopes for the place and it certainly didn't disappoint.
The Ivy Victoria Quarter, Leeds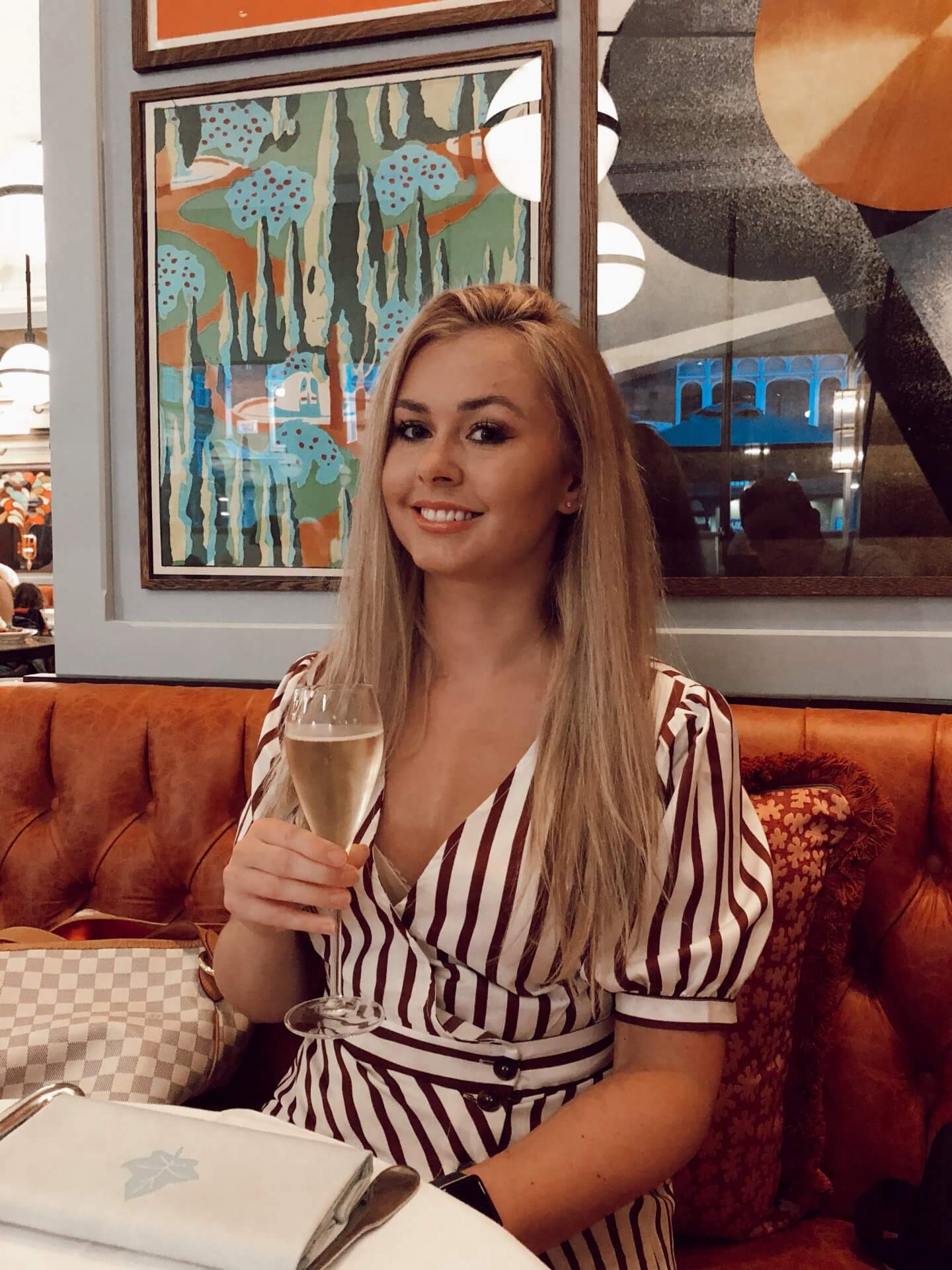 Dress: Pretty Little Thing
Upon arrival, you are greeted separately to the main bar and restaurant. Our coats were checked into the cloakroom, before we were shown to our table. We were offered a glass of champagne or a cocktail to start. It had to be champagne, obviously. As we enjoyed our delicious glass of fizz, we perused the menu. We were encouraged to pick anything we wanted from the menu, and narrowing it down was difficult.
Our waiter, Rhys, was very attentive and helpful. He recommended the crispy duck salad to start, which Andrew and I both opted for. For main, Andrew was always going to order steak, and for me it was fish or seafood. I was surprised to see whole lobster on the menu, and even more surprised they actually had it in stock; every restaurant I've been to recently has been 'sold out'. As sides, Andrew opted for greens and I ordered the parmesan and truffle chips.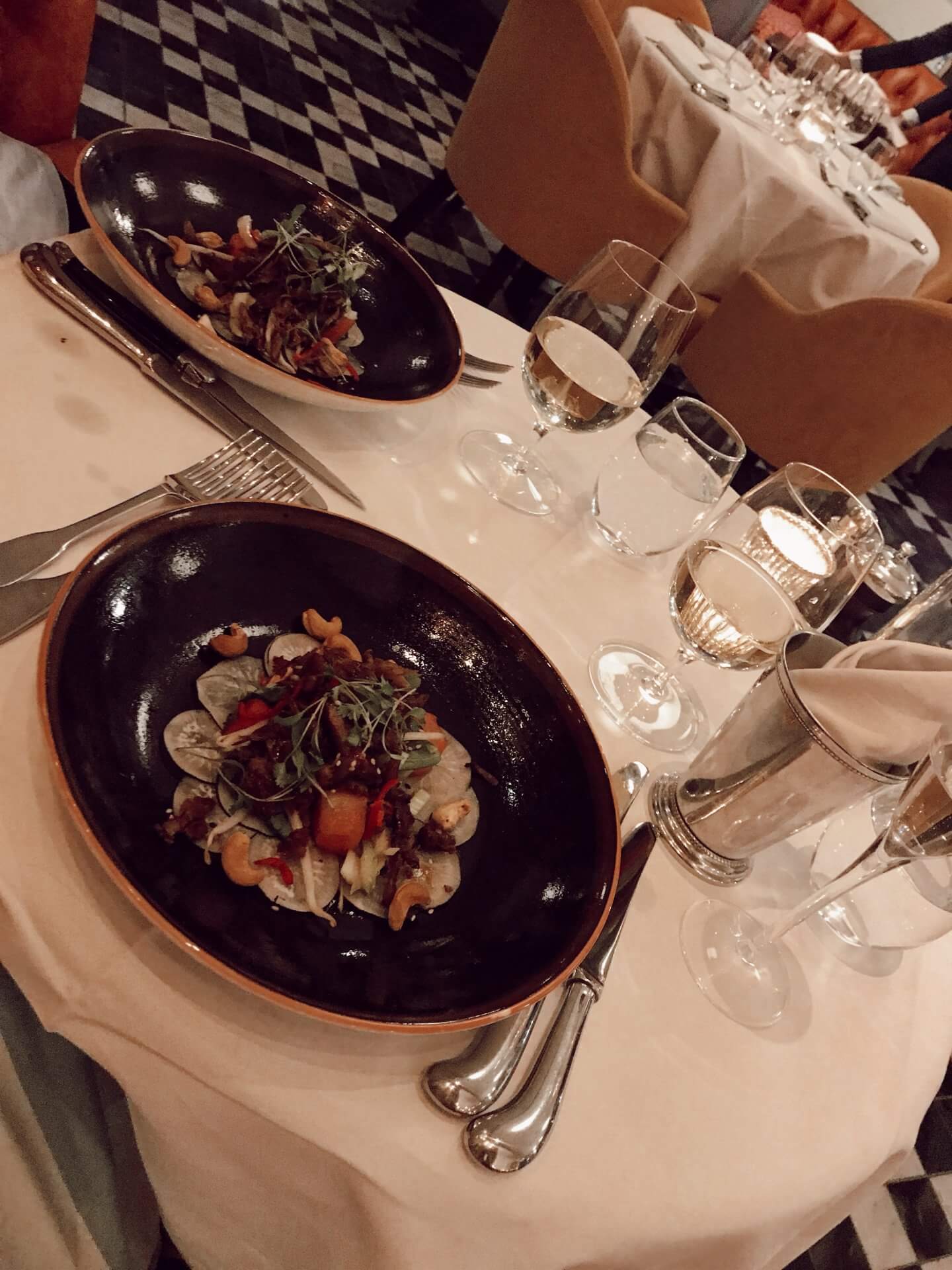 As we waited for our starters to arrive, we were offered a bottle of house wine and shared some delicious olives. The restaurant is beautifully decorated and soft 1920's music wafted through hidden speakers. Even though there were many diners, the restaurant didn't feel overly busy or cramped, and the service provided was impeccable. Our crispy duck salad soon arrived; the crispy duck was served with five spice dressing, toasted cashews, watermelon, beansprouts, coriander and ginger. It was absolutely delicious and the perfect size for a starter.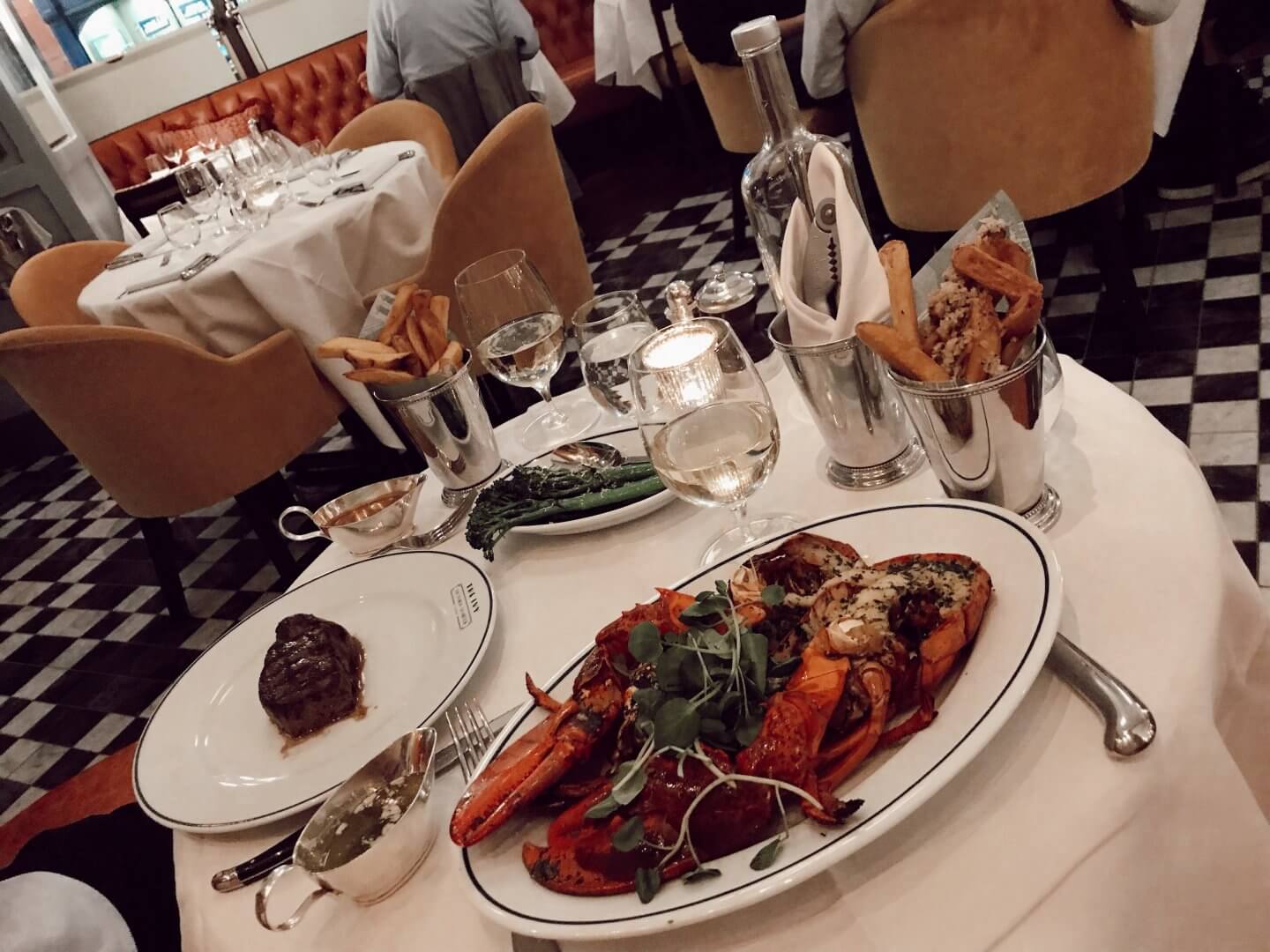 When our main courses arrived, I couldn't wait to dive in. Andrew's fillet steak looked perfectly cooked; which was confirmed as soon as we cut into it. He chose a green peppercorn sauce to accompany the steak. High praise was bestowed upon this dish; Andrew said it was the best steak he'd ever had.
My lobster was as equally divine. There was plenty of meat and the claws were included. I always find cracking into the claws and working for their delicious contents, the best part of a lobster or crab. The dish was served with a parsley and garlic butter, but the lobster was so flavoursome on its own, I hardly touched the sauce. The only thing missing was a wet wipe or finger bowl, but additional napkins meant it wasn't too messy.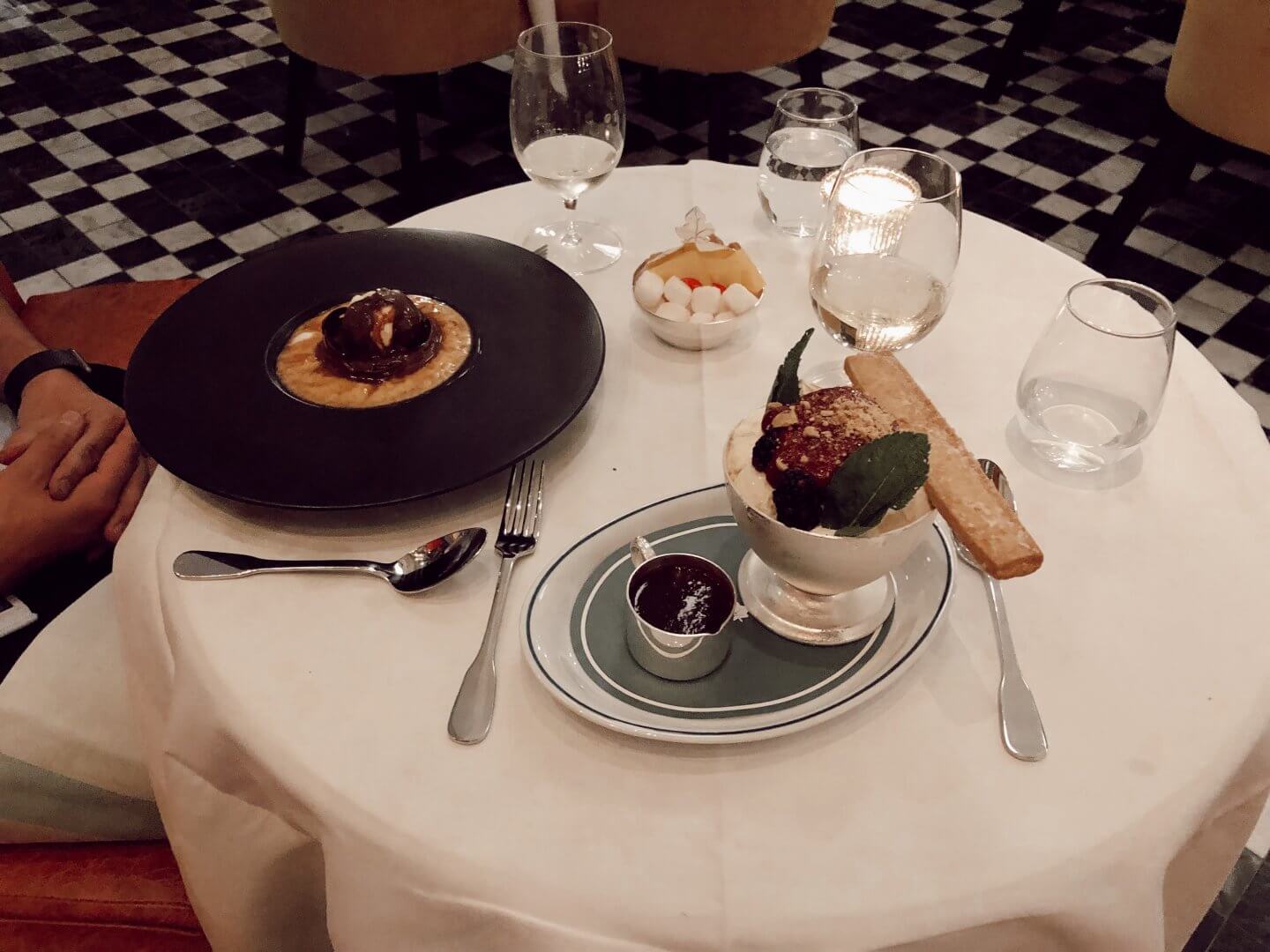 For dessert Andrew chose the chocolate bombe; melting chocolate bombe with a vanilla ice cream and honeycomb centre with hot salted caramel sauce. I chose the berry and shortbread sundae, which I sadly couldn't finish. We rounded off the evening with an espresso for me and a salted caramel espresso martini for Andrew.
In all honesty, our meal at The Ivy Leeds, was the best meal I've had in Leeds city centre in years. We will definitely be heading back for future date nights, birthdays and to celebrate the festive season with family. If you love good food in a warm and welcoming atmosphere, The Ivy Leeds is definitely worth a visit.
Lauren xx
Thank you to The Ivy Leeds for a wonderful evening, we were offered our meal in exchange for a review. All opinions are honest and my own.