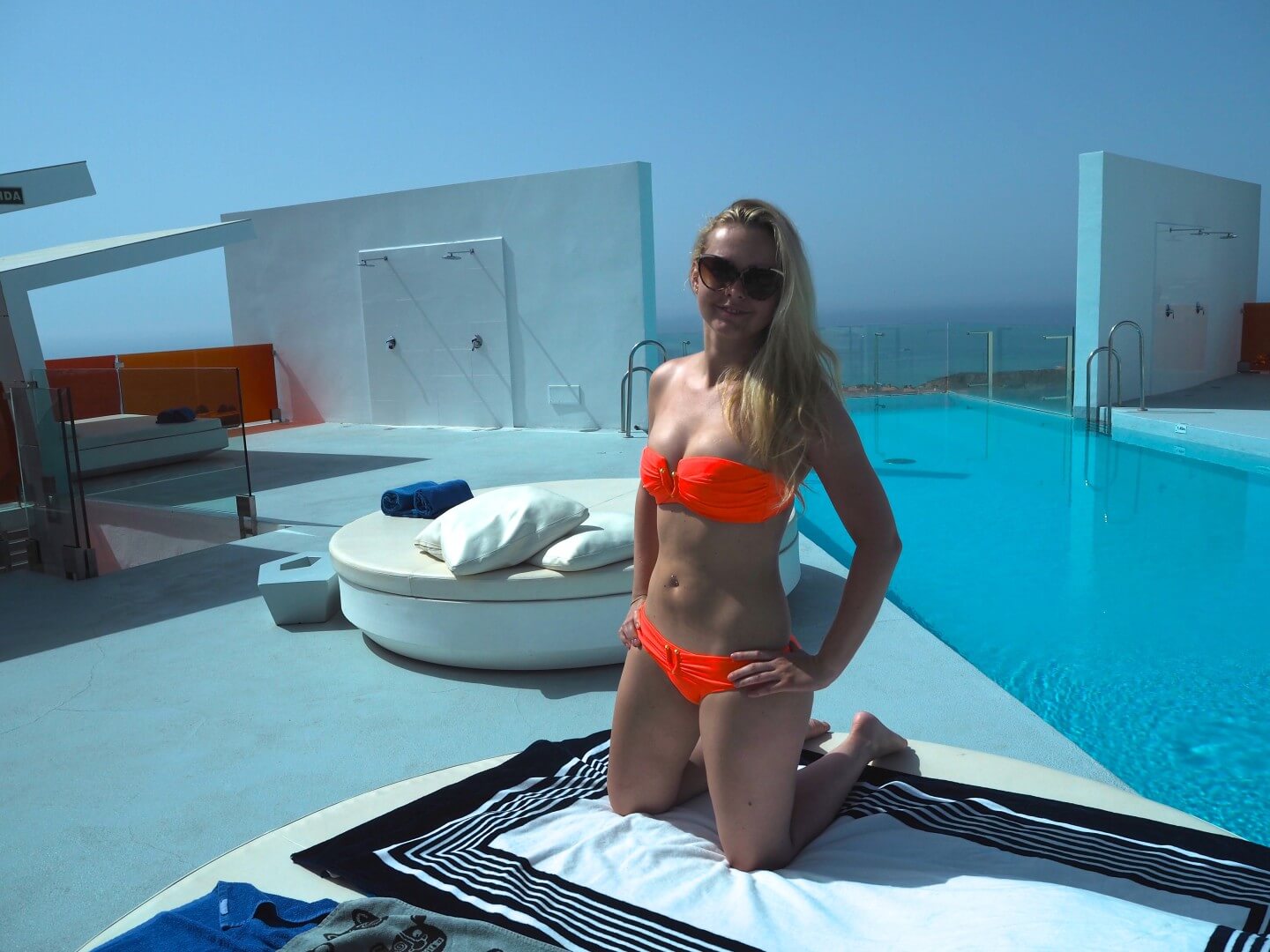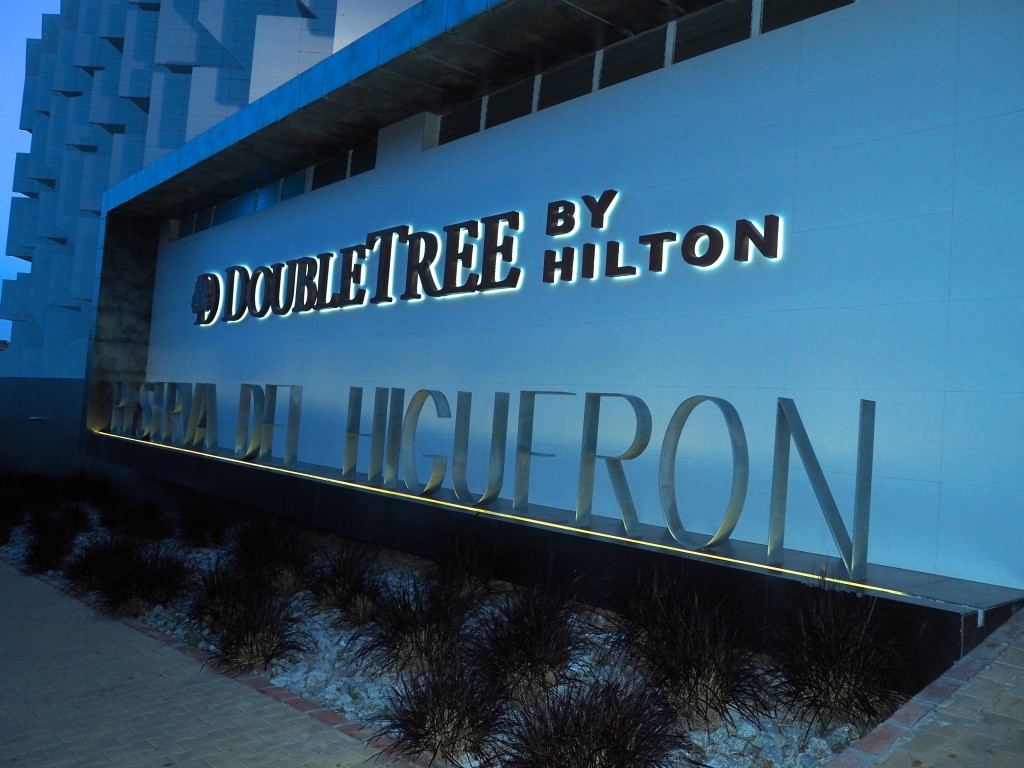 If you follow me on Instagram or Snapchat, you'll know we've just gotten home from a week in Spain. Just a quick forewarning; this is a LONG post, you may wish to grab a cuppa and biscuit before you dive on in…
DoubleTree by Hilton & Spa Reserva del Higueron in Funegirola
For Andrew's birthday I booked a week at DoubleTree by Hilton & Spa Reserva del Higueron in Funegirola. The hotel is only a 15 minute transfer from the airport, so even if you would usually prefer a taxi rather than a hot coach, I'd recommend you save your Euro's and just get on the coach as you're the first stop.
The hotel is on a steep hill, so if you do like walking around the resort and surrounding areas, and you're not that mobile, this probably isn't the hotel for you. To put it into perspective, the coach dropping us (more of a mini bus) couldn't get the handbrake to hold and we had to get out with the driver keeping his foot on the brake. There is a train that will take you from the hotel down to Carvajal railway station and the beach, or up the hill to some local shops. We took the train down and decided to walk back from the beach. It's a 21% incline to get from Carvajal up to the start of the hotel resort, and I honestly didn't think I'd make it.
So what about the DoubleTree by Hilton & Spa Reserva del Higueron in Funegirola itself? Upon entering the reception area of the hotel, you are met with little fuss and a lot of white. The hotel is very 'quirky' and the reception and lobby area look like an art gallery with paintings on easels for sale, as well as a classic car parked next to the reception desk. We arrived at around 12pm and although check in isn't until 3pm, we were able to check in, leave our bags and asked to come back in half an hour as our room would be ready early. We made our way to the infinity pool on the top floor and ordered cocktails and lunch whilst we waited. When we returned to reception, our room was indeed ready and I really appreciated the quickness and lack of fuss that other hotels don't always offer.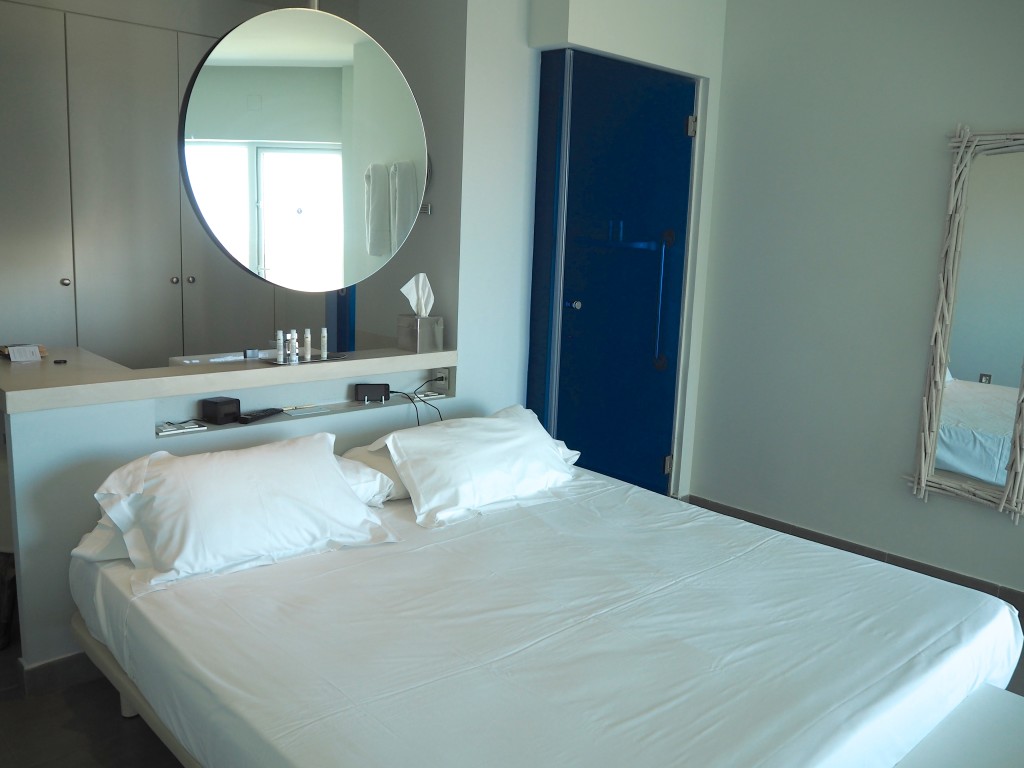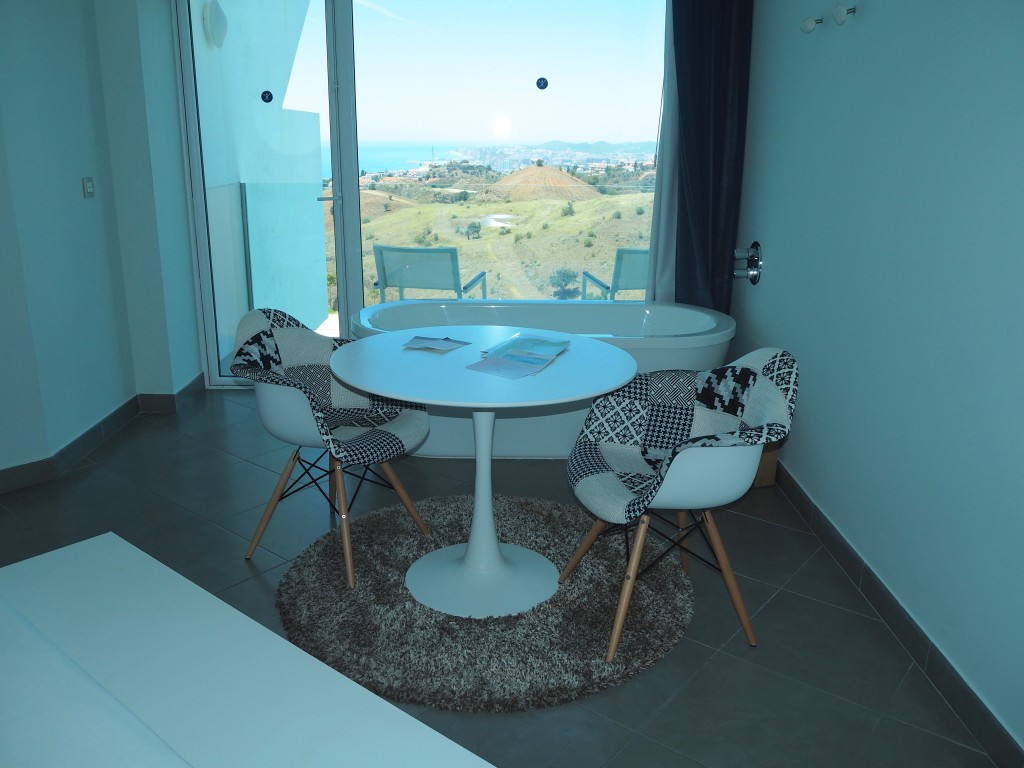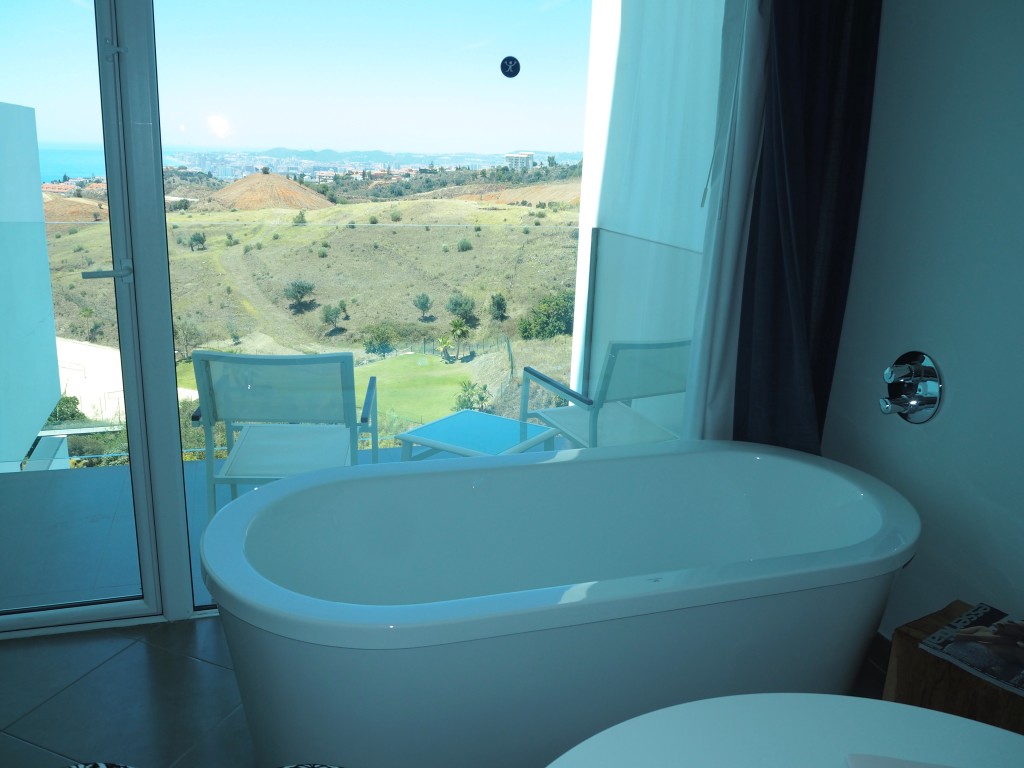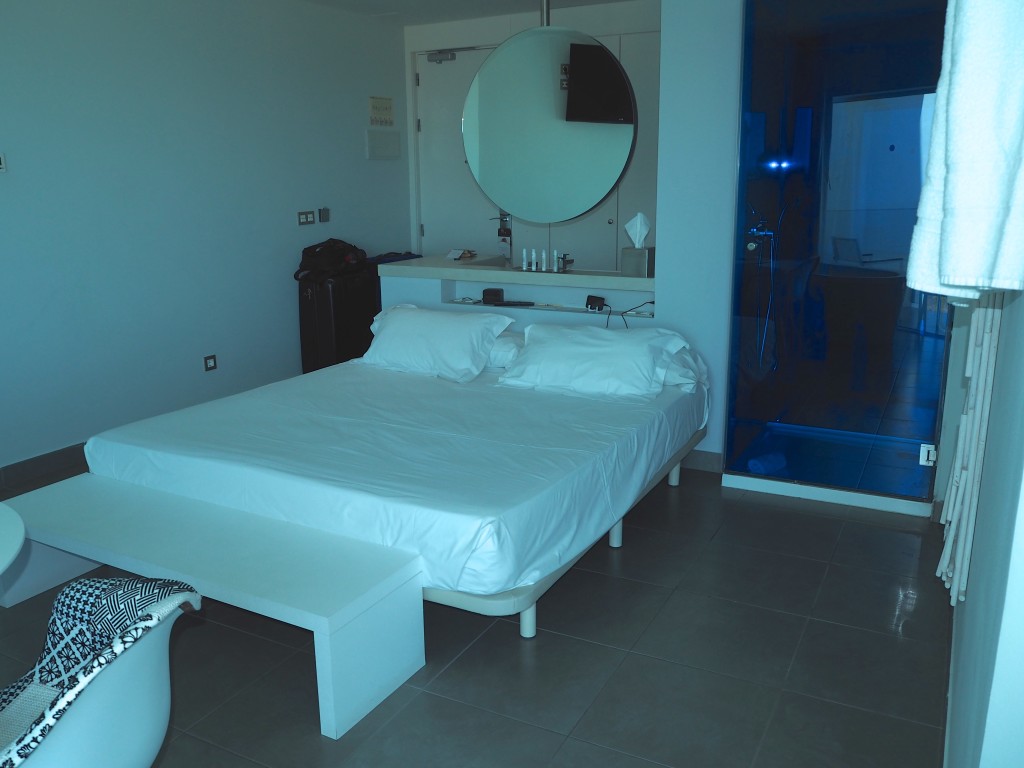 The rooms are where it gets interesting. We were on the fourth floor (of five), and upon exiting the lift our corridor was lit blue, we found our room (the room numbers are embossed into the door) and entered. We were met by one very modern room, with only two doors (more on that later). To the left was our wardrobes, opposite which was the sink and a 'floating' mirror, on from that was the toilet with a blue semi-opaque sliding door. The toilet is enclosed by the shower, which is literally opposite the toilet, with a far less opaque blue screen. If you're in the shower and someone else is on the loo, you're going to get to know each other very well. The bed is on the other side of the sink and mirror. Opposite the bed is a table a chairs and on from that, in front of the balcony windows, is a free standing bath. I've read online that you only get a true double bed if you upgrade to a deluxe room (we did), otherwise it's twin beds pushed together. Due to the lack of 'privacy' in the rooms, I'd definitely recommend the hotel for couples or the 'best' of friends.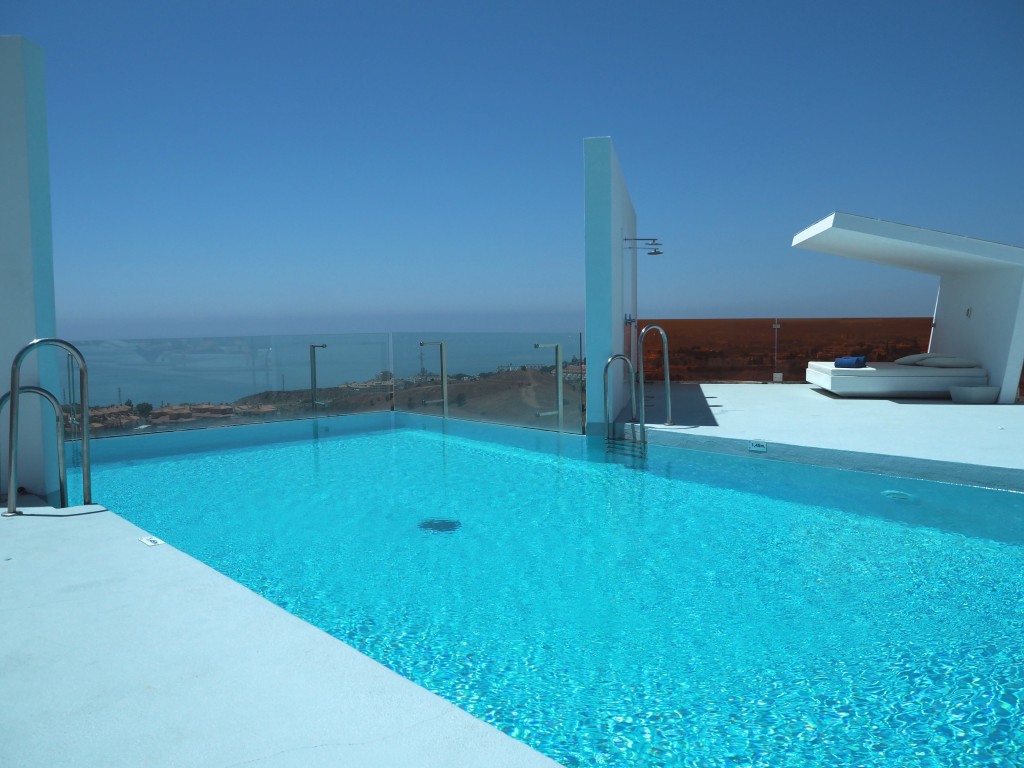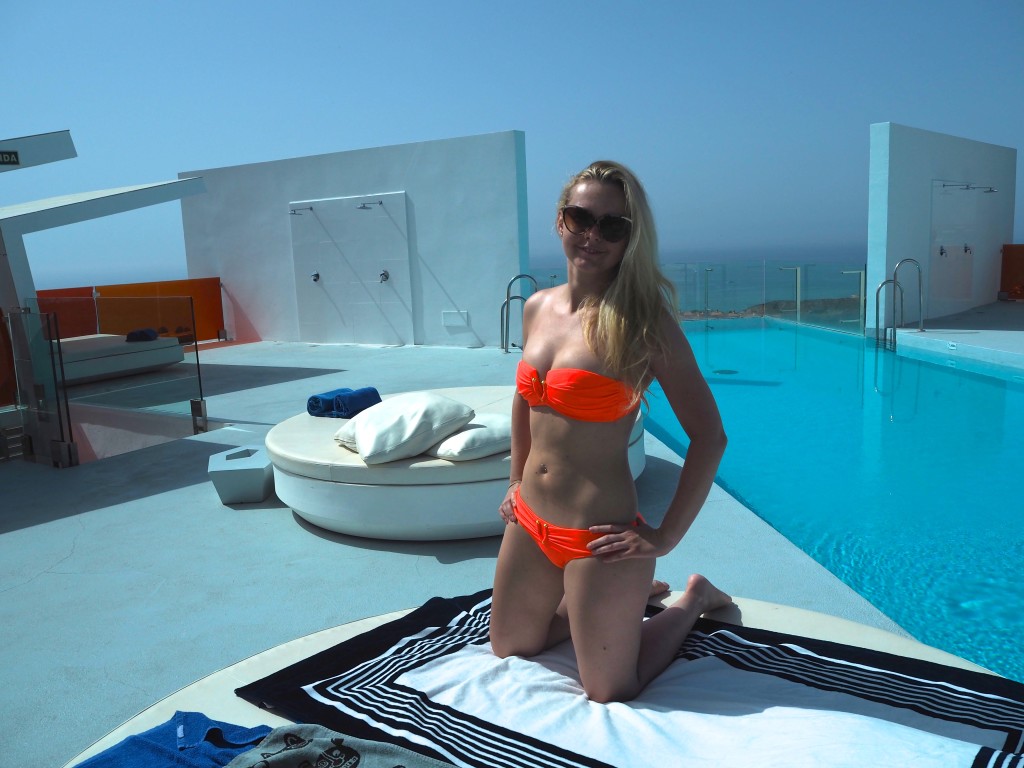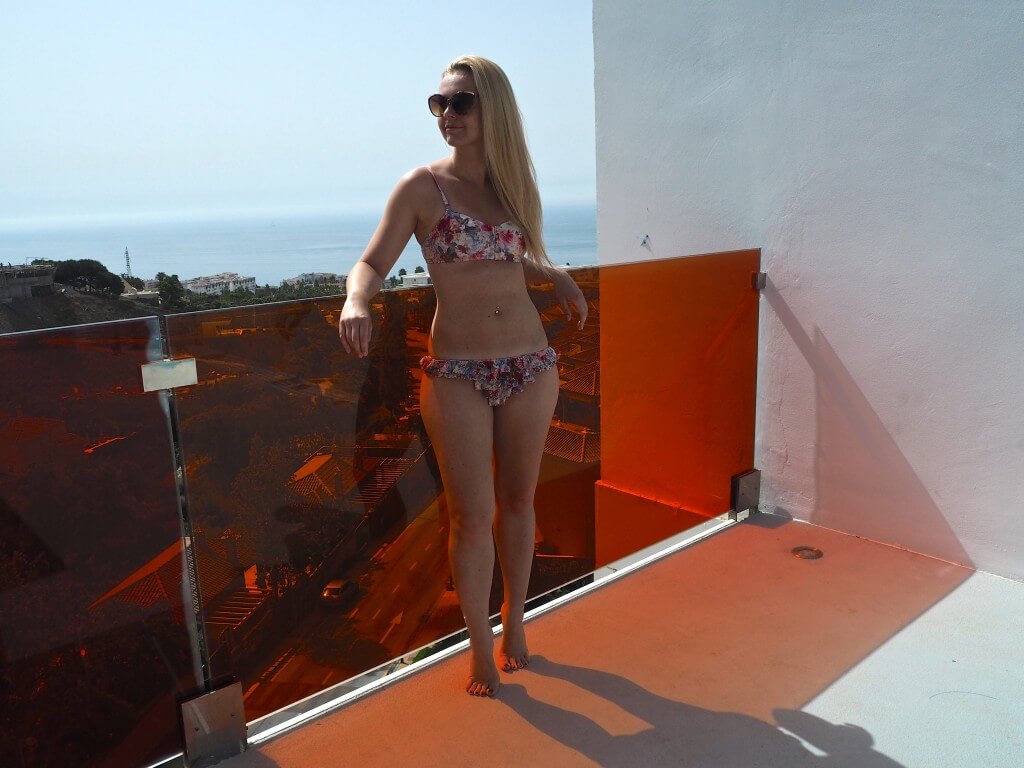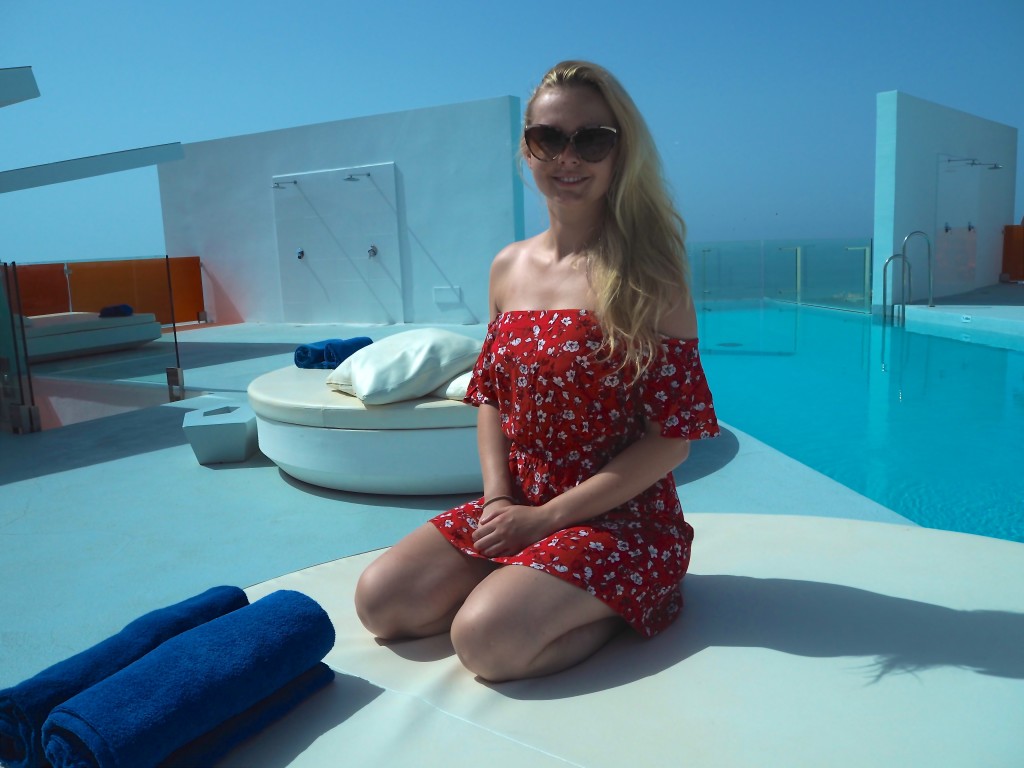 My favourite part of the hotel had to be the infinity pool which was situated on the top floor of the opposite side of the hotel to our room, and accessed by the other set of lifts. There is a large bar and sitting area with couches and tables, followed on by several round and square beds that can be hired for €25 from 10am-3pm or 3pm-8pm, you can also hire the bed all day for €40, but to be honest we found 5 hours more than enough sun, as on the round beds there is no shade. For the cost you also get a bottle of Cava and a fruit platter. I must admit I'm not usually a fan of Cava but this was actually a really nice bottle, which Andrew found in a local supermarket for €19 so it wasn't rubbish and we weren't ripped off, which I thought was good. The views from the pool itself and around the sunbeds was fabulous, you could see the entire coast. Children also aren't allowed at this pool which was a plus point for us as a young couple without children.
If you don't fancy paying for the infinity pool beds, there are two other pools; one by the sports centre and one outside the dining hall. We preferred the pool by the sports centre, however this is the only gripe we have of the hotel; we were advised on the Saturday morning that we weren't allowed to sit there as it was for sports centre members only, despite other hotel guests already sitting at this pool (the hotel is situated within a residential area), I was rather perturbed by this having spent two of our previous days here, and having not been told this when we checked in, as well as some guests being allowed and us not. After challenging the lady telling us this she said she would let us stay just this once, but I didn't like it seeming like some sort of 'favour', we left and I complained to reception. The lady later found us and told us she had reserved a bed at the infinity pool in way of apology, which did make up for it. I just feel if 'rules' change, and some guests being treated differently, it's unfair.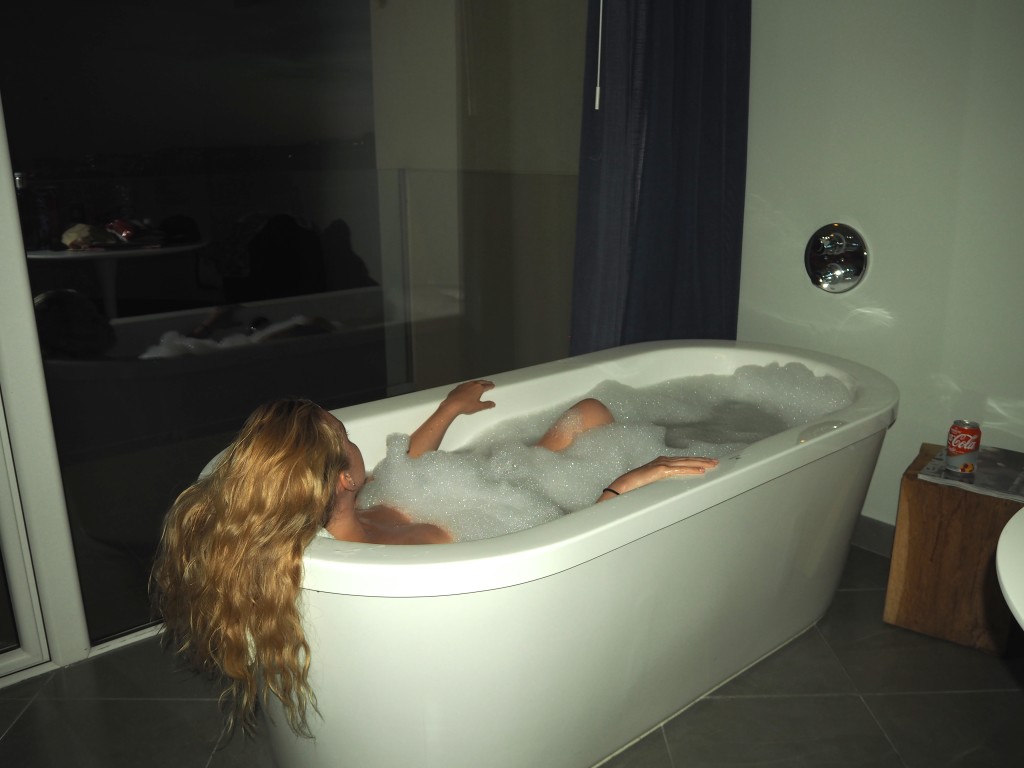 We treated ourselves to a massage, as the hotel name suggests (DoubleTree by Hilton & Spa Reserva del Higueron), there is a large spa attached to the hotel. We decided to get a a hot stones massage. I did enjoy it but it was different to those I've had in the UK, in that the stones were much hotter and the oil was cold. Previously I've had hot rather than scolding stones, and hot oil. I did squeal when the therapist put the stones on my spine, but to be fair, I had been in the sun so my skin was more sensitive than it would be usually. Once the stones cooled, it was a much more enjoyable experience and I'd recommend if you have some extra cash, that you treat yourself whilst there.
In terms of hotel restaurants, we went to Restaurant Al Rolo which was one of the Al a Carte restaurants on site was fabulous and we tried this on our first night. We also went to the hotel buffet one evening when we didn't fancy venturing far, which was pretty good for a buffet. I'm not going into too much detail regarding restaurants as I'll be writing another post on them.
Have any of you stayed at DoubleTree by Hilton & Spa Reserva del Higueron in Funegirola? I'd recommend this hotel to all couples!
Lauren xx