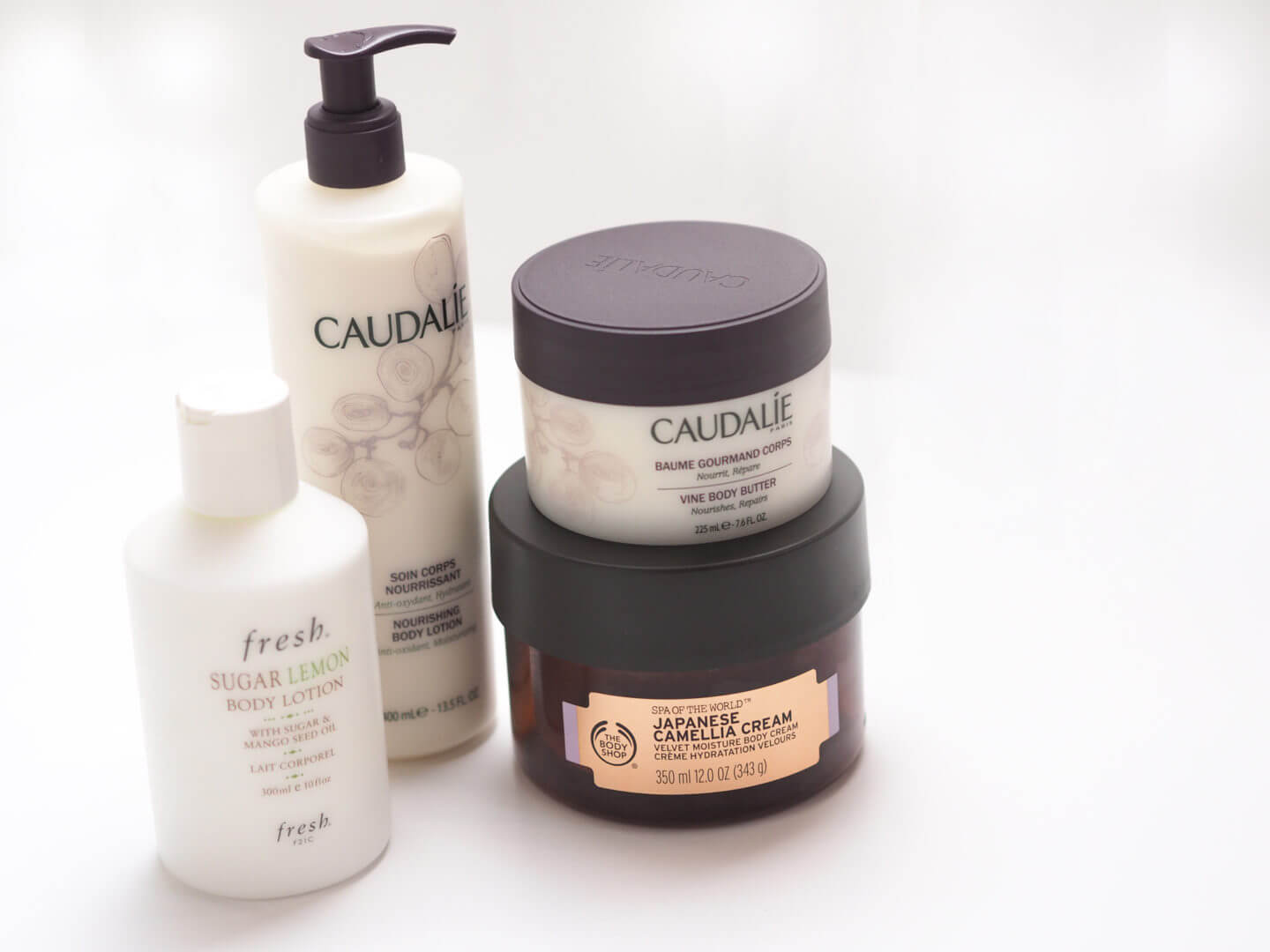 Taking care of the skin below my neck is something I've not been very good with, ever. I'm making a conscious effort to change this by trying out different products, with different formulas and different textures. I now have four products which I believe are the best body moisturisers to share with you. These products have made it into my list as they keep even a lazy girl like me, returning to use them.
The Best Body Moisturisers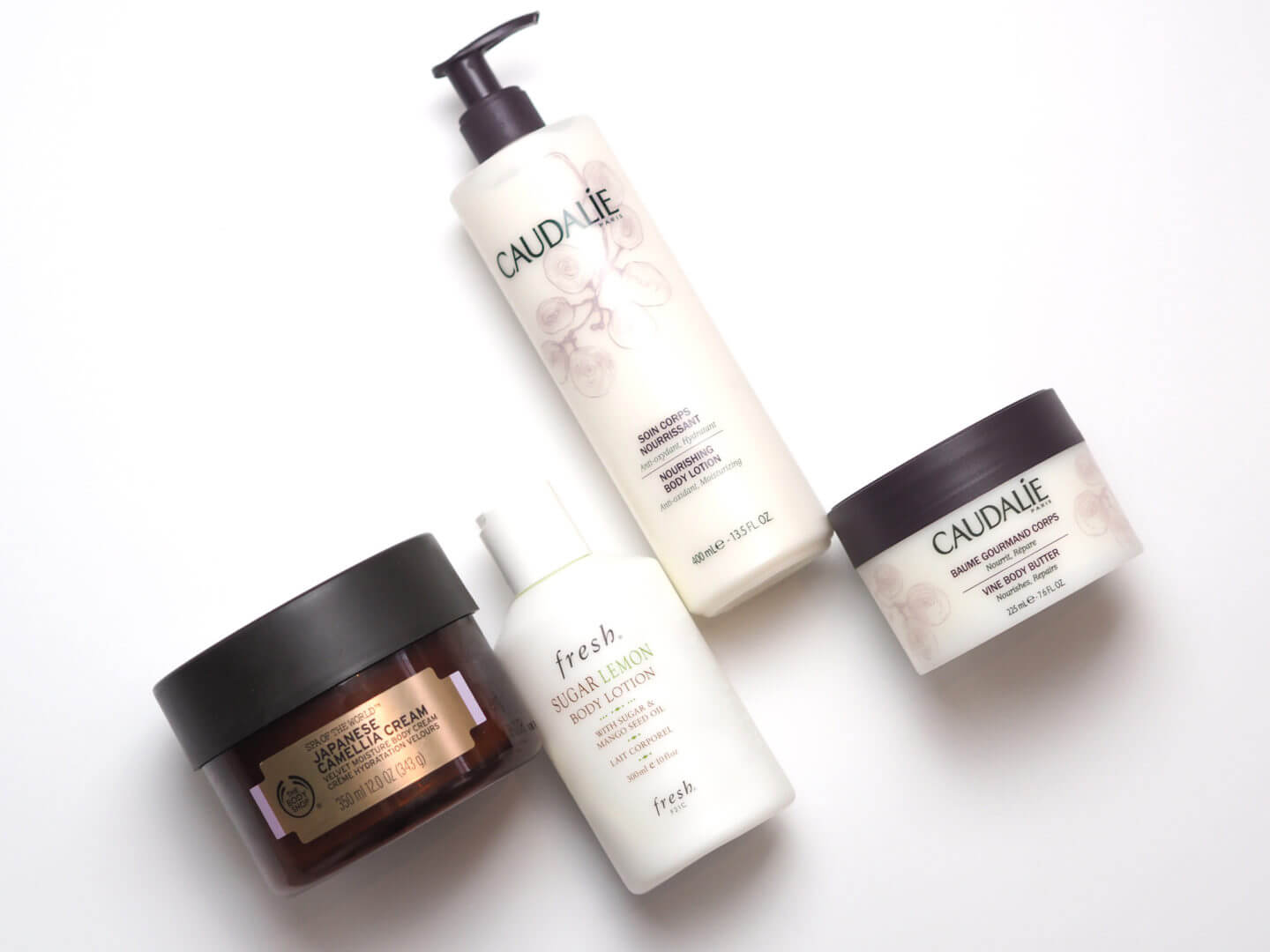 Fresh Sugar Lemon Body Lotion £17
I wanted to try Fresh's Sugar Lemon body lotion after I heard Caroline Hirons rave about it, I even included it in my Christmas 2015 wish list. If you read my blog regularly, you'll know I love citrus scents, so this is perfect for you if you do too. The texture is very light and it is quickly absorbed into the skin. Ingredients include brown sugar, mango seed oil, shea butter, lychee extract and vitamins C and E. As the product is light and quickly absorbed, I'd recommend using it on a morning as you can get dressed quickly after application – great if you're always in a rush like me!
The Body Shop Japanese Camellia Cream £25
I bought The Body Shop's Japanese Camellia Cream ages ago. I fell in love with it after attending the Spa of The World range launch. The texture of this product is like nothing I've ever used before; I'd describe it as a very thick mousse. If you've not felt the texture of this, I'd recommend heading to your nearest store and having a play with it. The Japanese Camellia Cream is heavily scented and very rich, as such it is part of the relaxing ritual. A little bit of product goes a long way, and I would recommend using it on an evening after a relaxing bubble bath.
Caudalie Vinotherapie Nourishing Body Lotion £26*
The Vinotherapie range from Caudalie is one of my absolute favourite ranges and as such, two products are featured in this post. First up is the Nourishing Body Lotion, which is a light lotion which is lightly scented. It also comes in an impressive 400ml bottle which is a massive plus point for me. A little bit of product goes a long way, but it is quickly absorbed. My preference is to use this on a morning if I'm using it as a body product, as I also like to use it as a light hand cream throughout the day. I really don't think you can go wrong with this body lotion and is a staple in my skincare wardrobe. Caudalie also recommend this as an after-sun product.
Caudalie Vine Body Butter £21•
I've definitely save the best until last; Caudalie Vine Body Butter. This is my absolute favourite body moisturiser. It is a very luxurious, thick cream – not necessarily what you'd imagine the consistency of a butter to be. Ingredients include grape and shea butter and as with the body lotion, it is very lightly scented. I usually like to use a thicker moisturiser on an evening, but this is such a beautiful product, that I'll happily use it on a morning as well as on an evening. If I could get a bucket sized helping of this I'd buy it. I'd go as far as to say it is my favourite product find in the last year (which for a skincare addict is no mean feat).
Have you tried any of these products? What is your favourite body moisturiser?
Lauren xx