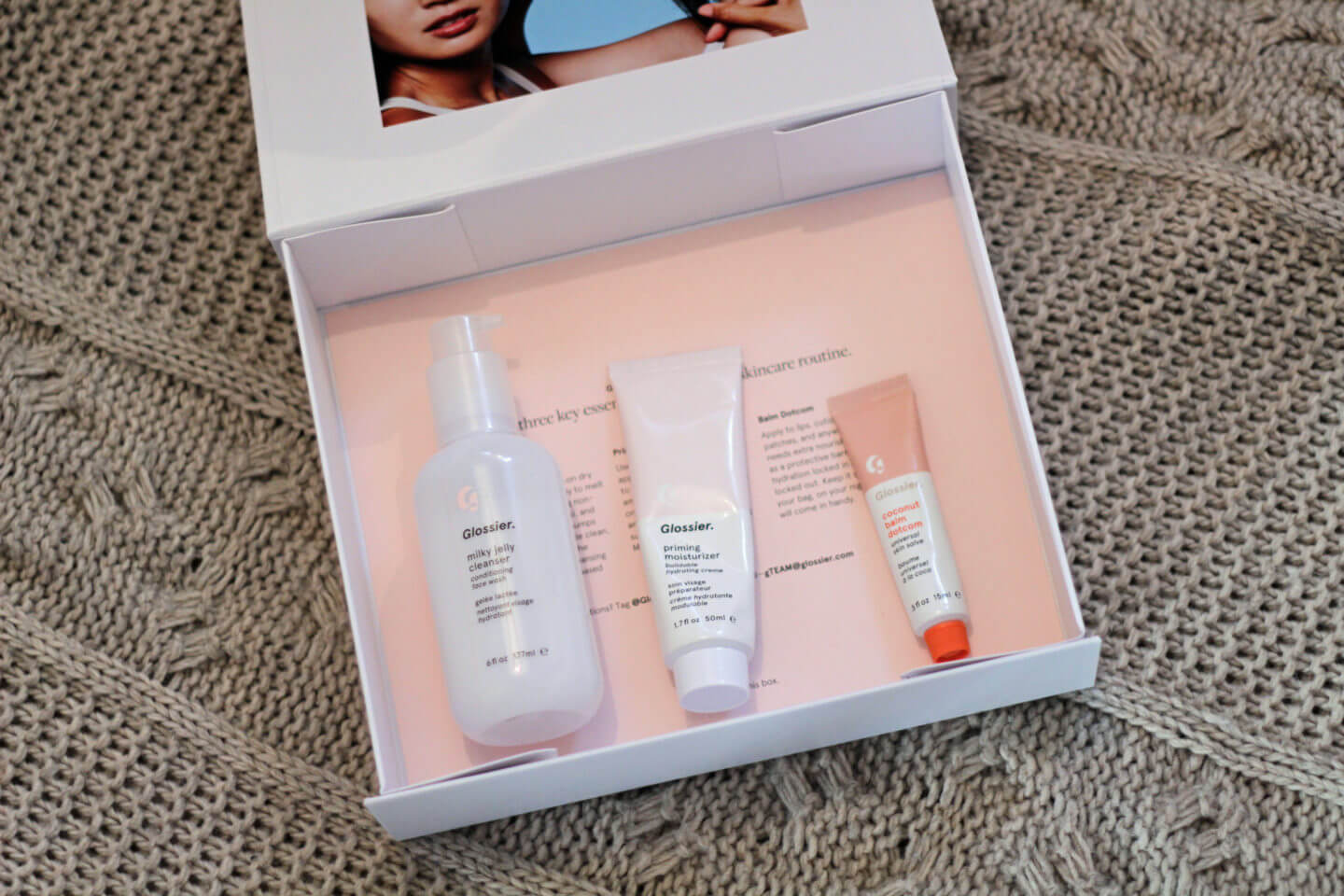 I totally jumped on the Glossier landing in the UK hype. Especially when the skincare queen Caroline Hirons gave it her seal of approval. Glossier launched in the UK 3 weeks ago, and I'm sure every beauty blogger you follow has mentioned it. I decided to start of with the skincare, therefore I ordered the Glossier Phase 1 set, and left the makeup until I'd made up my mind on the skincare. As regular readers will know, skincare is more my thing, especially as I'm on the wrong side of 25.
Glossier Phase 1 Set
So what do you get in the Glossier Phase 1 Set? You get three full sized products; Milky Jelly Cleanser, Priming Moisturiser and Balm Dotcom (in your choice of flavour). All three products cost £35, which is less than I usually pay for my cleanser. I was a little sceptical, given how hyped the products were, but I couldn't wait to try them out.
Glossier Milky Jelly Cleanser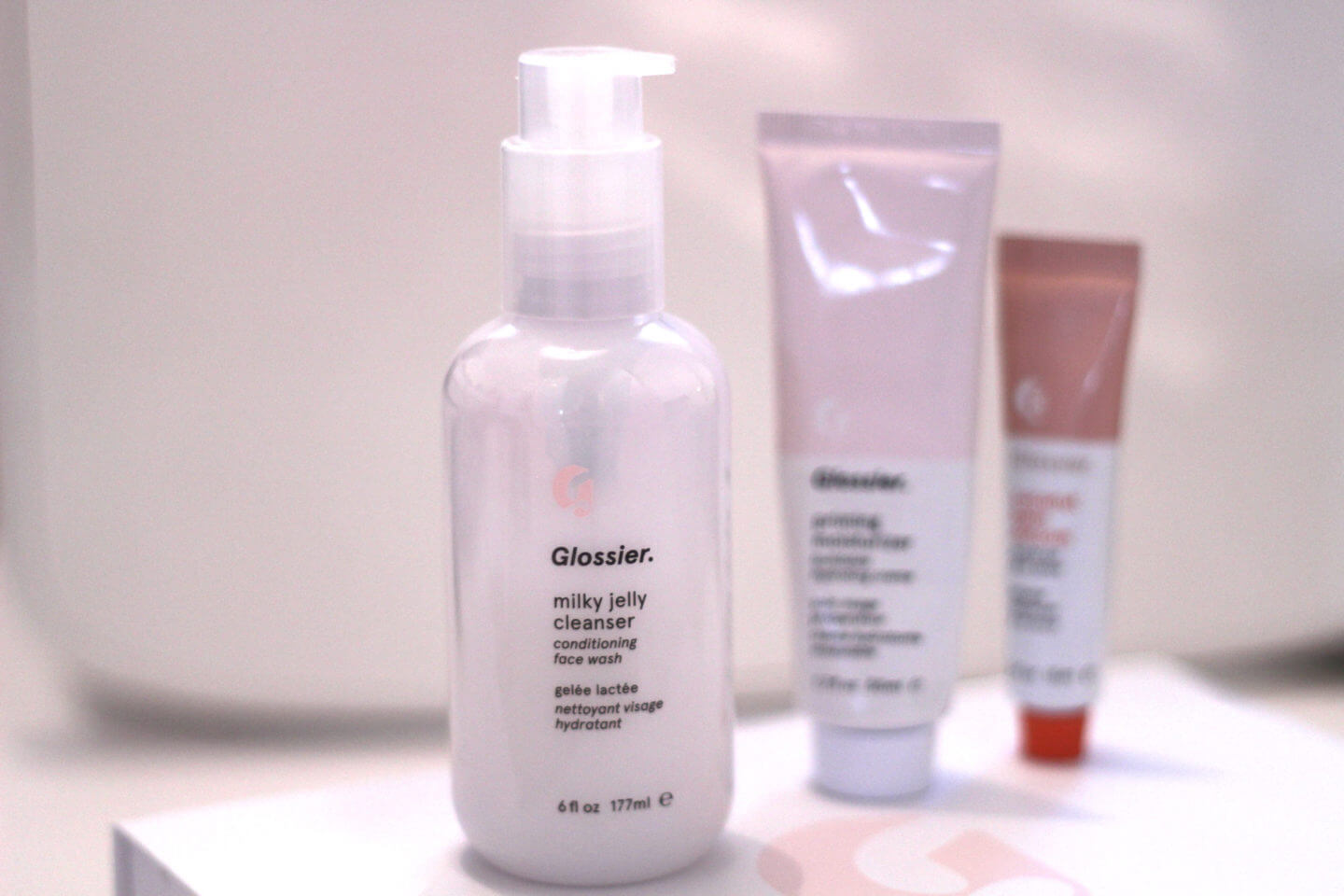 I've been using the Glossier Milky Jelly Cleanser since the products arrived around 2 and half weeks ago. I've used this every morning and every evening. I adore it as a morning cleanser as it doesn't feel like my winter parched skin is being zapped of all its moisture. On an evening, it's perfect if I've not been wearing makeup, or as a second cleanse. In the morning I use it on dry skin and remove with a hot face cloth. On an evening, I repeat the same process or if it is a second cleanse, use it on a damp face. The directions state that you should use 2-3 pumps, which I used on the first day and it was simply far too much, I felt like I washed most of it down the sink. I'd recommend trying one pump and using more if needed. My skin really likes this cleanser, with no new product induced breakouts, which I'm really impressed with.
The only issue I have had is when I'd used my Alpha H one evening, then used this first thing in the morning, and my face ended up red after feeling slightly hot. I thought maybe something was on the face cloth so immediately switched it, but I had the same reaction for around a day and a half. So please be careful if you're using acids in the evening. I've no idea why this happened, but it's my honest experience. I've continued using the cleanser, even after using Dr Dennis Gross Peel and I've been fine.
Glossier Priming Moisturiser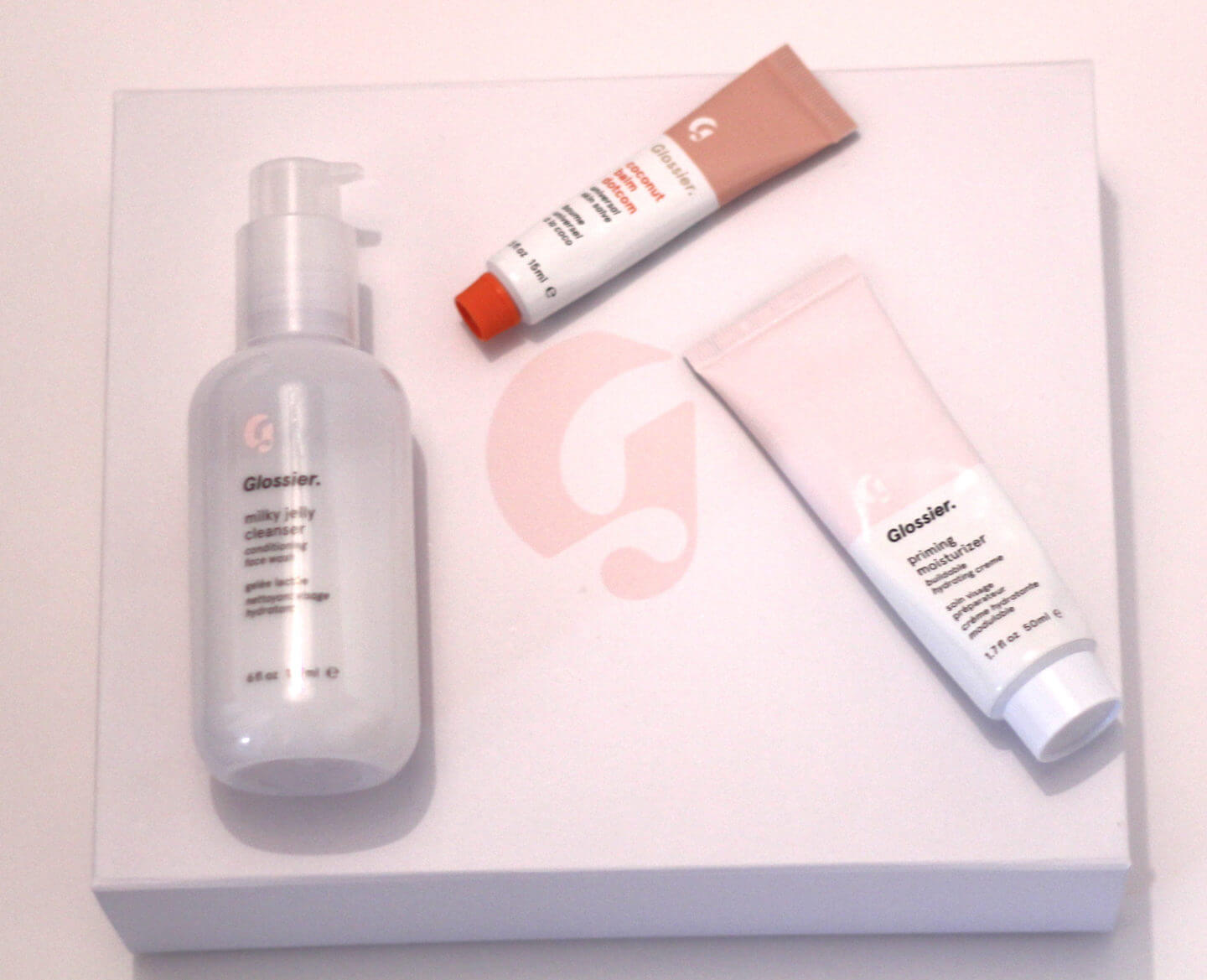 Again I've been using the Glossier Priming Moisturiser for around two and half weeks, morning and night. This moisturiser is very light and almost like a lotion in consistency. My skin has been absolutely fine using this, with no breakouts. In a morning, it's nice to use after a spritz such as Hylamide Hydra-Density Mist (which I love and reviewed here), or I feel it's not quite heavy enough for winter. I also feel similar on an evening. I will apply the moisturiser over either an oil or a serum, or it isn't enough for my dehydrated winter skin. I wish I'd had this moisturiser during summer, as it would have been absolutely perfect, especially on holiday. Makeup goes on very well afterwards as the moisturiser is quickly absorbed.
Glossier Balm Dotcom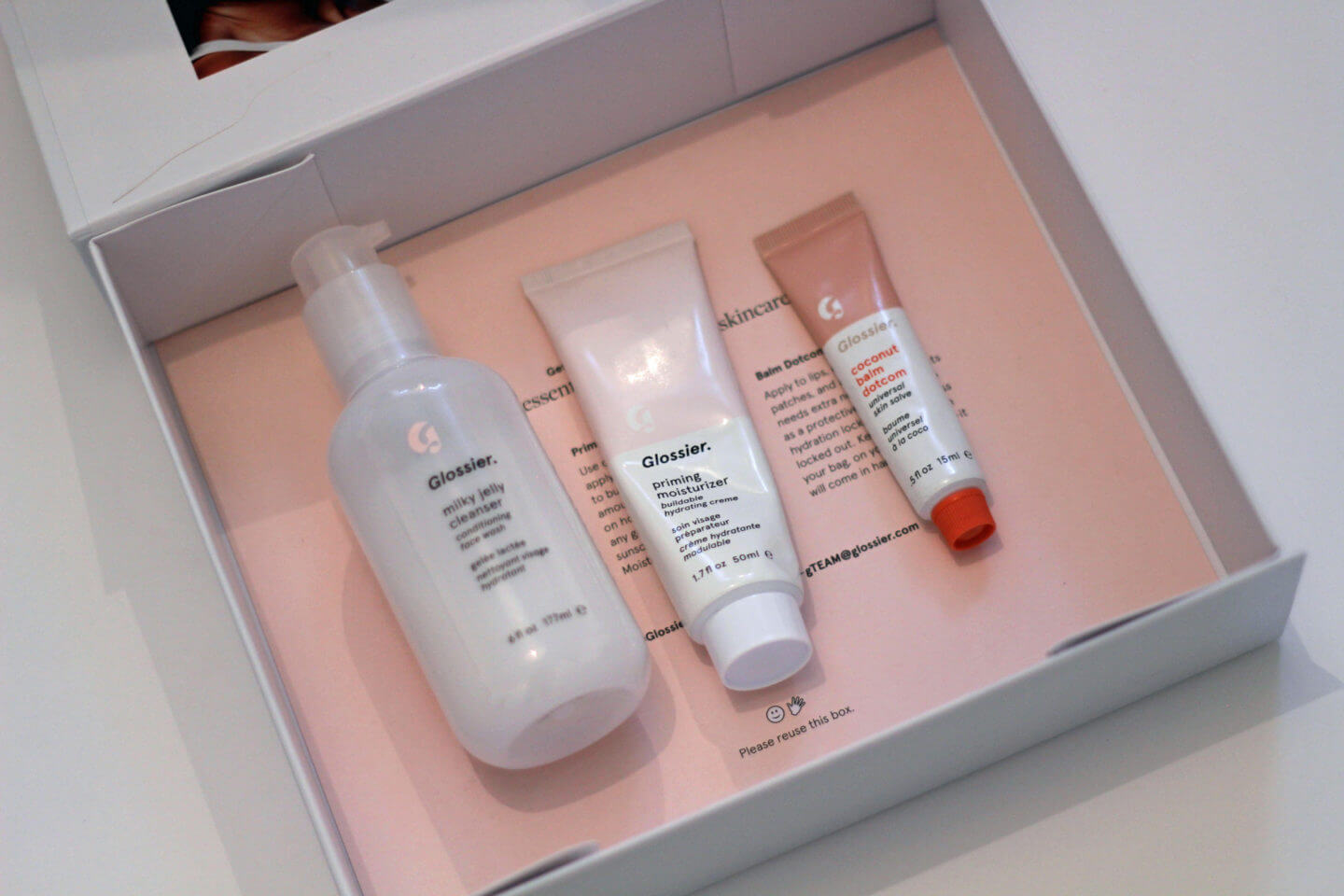 I am absolutely terrible when it comes to looking after my lips. I had thought the hype around the Glossier Balm Dotcom would encourage me to keep applying every single day. Alas, I have not…however, that is not a reflection on the product. You can select whichever flavour you'd like with the Phase 1 set. I opted for coconut thinking it would remind me of my beloved summer. The first squeeze didn't seem to have any flavour (or scent really…), however, a few squeezes in and the flavour was definitely noticeable. The Balm Dotcom absorbs very well and isn't greasy. I've been using any excess on my cuticles too, which my nails seem to like. I feel like I can't compare this product to anything else, simply because I've not used it enough, but I am making a conscious effort to use it more.
So there you have my review of the Glossier Phase 1 Set. Will I repurchase? I think I would definitely re-purchase the Milky Jelly Cleanser, and then only the Priming Moisturiser in summer. Under current usage, I doubt the need to repurchase the Balm Dotcom will ever arise.
Have you tried Glossier products? Do you have any recommendations from the rest of the product line? I'd love to try some more.
Lauren xx