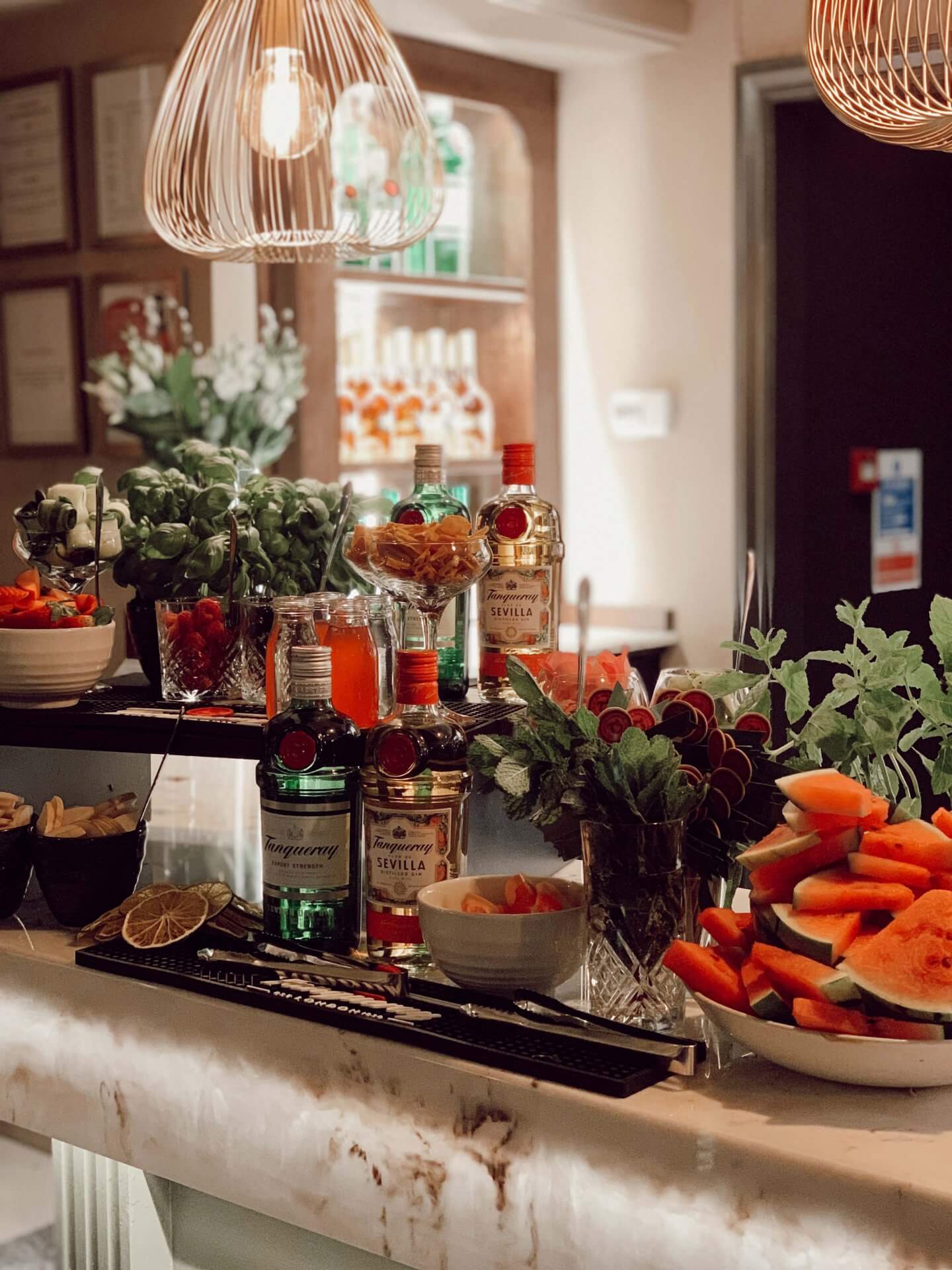 A few weeks ago, I was invited to dine at The Deer Park, which is in Roundhay, Leeds, and had just undergone a large makeover over the previous few days. I'd never visited previously, but have visited their sister pub, The Fox several times, and thoroughly enjoyed our meals each time. I was offered a table for four, so my husband and parents also joined.
We were warmly welcomed into the pub and offered drinks whilst we took a look around the pub. Beautifully decorated, with a modern meets traditional vibe. I particularly liked the framed florals. Despite only allowing for a few days, the makeover included a conservatory, with a retractable roof for warmer days – I'm sure it'll be a hit come summer.
As the designated driver, I could take pretty pictures of the rather aesthetically pleasing gin bar, but it was a lemonade with strawberries for me. We were offered a table in the new conservatory, which despite the March evening, wasn't cold as there are remote controlled heat lamps around the structure.
The menu is exactly the same as The Fox, so I wanted to try something which I'd not had previously. I opted for some snacking olives to start and the seared sea bass fillets for main. The sea bass was divine and the skin was deliciously crips -it reminded me of the meal I wrote about served by La Belle Assiette chef Luis last year, in which he had blowtorched the skin of the fish. The fish was served with courgette ribbons, asparagus, broccoli and baby potatoes alongside a vermouth velouté. I wasn't keen on the vermouth velouté, but I was able to eat around it. I'd definitely have the dish again, but ask for it to be served without the velouté.
My husband and dad both had the oven-baked king prawns and lobster starter; my dad had previously raved about it at The Fox, and this certainly didn't disappoint – it may have even exceeded expectations. For their mains, Andrew went for the fillet steak which he assured me was perfectly cooked, and didn't last long on his plate. Dad went for the dirty burger which is a very popular choice, and again received high praise. Mum went for the lamb kofta salad, followed by the spit-roasted chicken served with fries. She said both dishes were delicious.

Dinner was finished off by sampling a selection of desserts. I tried the warm chocolate brownie, but asked for the bourbon ice cream to be switched to pecan praline, which was no trouble to do. The brownie was very rich, and despite my sweet tooth, I couldn't have managed to eat it all, my dad could eat chocolate cake until the end of time, and he couldn't manage it. The ice cream was absolutely divine however, I'll definitely be ordering a bowl of that next time. Andrew opted for the chocolate bomb, which was beautifully presented. Dad went for the traditional sticky toffee pudding, which was devoured quickly. Mum had Eton mess, which is her personal favourite and she really enjoyed it.
The portions were all large, so you could easily have skipped your starter or forgone dessert. I'm glad I just picked olives to start, or I'd have never gotten through my main.
The staff were all knowledgeable, happy and attentive, without being overbearing. Our waitress clearly knew the menu well and was able to offer feedback on the dishes we were ordering.
I'd definitely be happy to visit again, perhaps during the day after exploring Roundhay Park or Tropical World, which are next to the pub.
Thank you to The Deer Park for our evening, the meal was offered complimentary in exchange for review. All opinions and photographs are my own.
Lauren xx